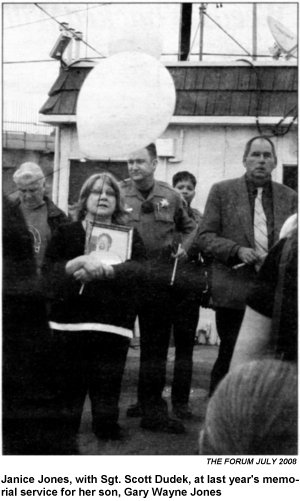 GARY WAYNE JONES
A WEB OF CLUES ON MURDER
By Robert Souza
CASTRO VALLEY FORUM - August 12, 2009
The effort to develop new leads in the senseless 2007 murder of Gary Wayne Jones of San Leandro has been expanded to the World Wide Web.
Jones, a 38-year-old cabinetmaker, was gunned down on June 28, 2007 at the ABE gas station on Mission Blvd. for a small package of medical marijuana he had just purchased legally from the nearby Compassionate Cannabis Club. The assailant and another man had apparently observed the sale from their car and sped off seconds after the shooting and robbery.
The Internet posting, which includes news clips and photos of Jones, was the idea of Bob Swanson of Castro Valley who works as constituent liaison for Supervisor Nate Miley.
"I really want to catch this murderer," Swanson said. "Who knows who he will kill next."
Although the slaying was recorded by a surveillance camera, investigators have been without any real leads in the case. A reward from the Alameda County Sheriff's Office for information leading to the killer's arrest has been increased to $70,000.
"This Website is a wonderful example of how the police, citizens and our local leaders can come together to help the community," said Sgt. Scott Dudek who continues to work the case. "I hope the public looks at the Website and that someone will have the courage to call us so we can solve this tragic and senseless murder."
The gunman is described as a Hispanic male, 17 to 20 years old, five feet eight inches to six feet tall, with long dark hair. The second man, the driver, is described as a Hispanic male with a mustache. It is believed the pair have ties to the Cherryland area but may be residents of Mexico.
Jones' mother, Janice Jones, told the Forum Swanson is nothing short of a hero and is grateful for his tireless efforts on behalf of her family. She also expressed her thanks to Supervisor Miley for contributing to the reward and for erecting a billboard with information on the case at the gas station where the murder occurred.
The new Website, http://www.ebdir.net/garyjones/ went online last Wednesday and Swanson and Jones are counting the moments before it's picked up by Google and other search engines to as many viewers as possible. "I want this solved and I want that part closed and have those people behind bars. I don't want any more mothers to go through what I went through," Jones said.
Anyone with information on the case is asked to call the sheriff's anonymous tip line at 667-3622 or Sgt. Scott Dudek at 667-7478.