Chakrapani is a Vedic Astrologer
from Kerala, South India.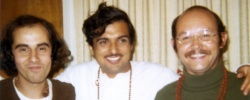 Randall Fontes, Kersee Bulsara and Bob Swanson spent a lot of time meditating at Sri Gurudev Ashram in the basement that is set up as a meditation cave. After meditating Bob approached Swami Muktananda and asked if he knew of a good astrologer and how accurate is astrology?" He replied, if the astrologers mind is clear it can be 100 percent accurate. Bob then asked, "do you know of an astrologer with a clear mind?" Muktananda laughed and said "See Chakrapani, he is my astrologer and is very good."
So they were off to Bombay to see Chakrapani. They asked him many questions in their three visits with him. He told them about their past with amazing accuracy and was correct about the present. They then asked him about the future. He said to Bob, "Your chart starts out slow and gains momentum as time moves on, a very good chart. When you are thirty, good things will begin to happen for you. You will have a lot of work but you will win out. Then when you are 42 things will be wonderful. You will be a teacher and lecturer and will travel a lot."
Randall then asked what he would do in this world. He explained that he had some talent in art and would he, perhaps, be an artist? Chakrapani replied, "No, that was last life. This life you will be a scientist and work on relating physics and metaphysics, the physical and the spiritual. You will become famous. Around 1985 or 1986 you will become world famous. Randy was quite surprised as he had not been working (nor did he plan to work) in the field of science at that time.
---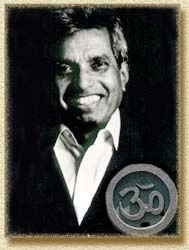 Chakrapani is a Vedic Astrologer from Kerala, South India. He was born into a traditional Hindu family of astrologers where the practice of Astrology has been passed from father to son for many generations. Chakrapani began to receive training from his father while still a young boy.
In Chakrapani's village, as well as in much of rural India, astrological principals were a part of the customs and rituals of village life; education in the subject was as much a way of life as a focus of study.
Thus Chakrapani, like many before him, learned Astrology both as a science involving mathematics and the application of numerous laws and principles, as well as a style of thinking which holds tantamount the premise that all life is sacred and connected to an organic whole.
From his youth, Chakrapani had a deep interest in spiritual life, and desire for greater experience and understanding led him to seek out many saints and sages in India. Thus began a long association with both unknown sadhus as well as many of the most revered spiritual leaders of our time.
Chakrapani earned a degree in business studies and law and traveled widely in his capacity as a financial and legal advisor to the companies he represented.
In 1979, he was invited by Swami Muktananda to come to America as an astrological consultant. By 1982, Chakrapani had established his own consulting practice where he has continued for the last 25 years.
Chakrapani´s many years in America, and his extensive travels in Europe, Asia, and elsewhere have given him ample opportunity to study how astrological principles are expressed differently in various different cultures. He has become an expert in integrating the astrological principles of Vedic Astrology into the cultural mores of America and other western cultures, a somewhat daunting prospect for an astrologer visiting from the East.
Chakrapani has played a key role in bringing Indian scholars with expertise in astrology, ayurveda and yoga to the United States, and has sponsored many occasions for the exchange of ideas between the East and West. He supported the creation of the American Council of Vedic Astrology, and served a term as its Honorary President.
He has been awarded the titles of Jyotish Kovid (Proficient in Jyotish), and Jyotish Vachaspati (Professor in Jyotish),and Jyotisha Sagar(Ocean Of Astrology) by the Indian Council of Astrological Sciences. He is on the Board of the American College of Vedic Astrology.
Considered a teacher of teachers, Chakrapani is credited for training countless astrologers in advanced methods of delineation. He has been the keynote speaker in many symposiums, and continues to be sought after for lectures and teaching engagements wherever there are individuals wanting to learn Vedic Astrology. He now resides in the Hancock Park area of Los Angeles and travels extensively throughout the United States and abroad teaching astrology and giving astrological consultations.