| | |
| --- | --- |
| | In Quest of the |

Spiritual Jewel
of India

It was Wednesday, November 24, 1971 at 5:00AM when Air India's brand new and 1st 747 the "Emperor Ashoka" came to a halt on the tarmac of the Santa Cruz Airport in Bombay (Mumbai). The door opened and a rush of tropical heat and humidity engulfed the cabin of the aircraft.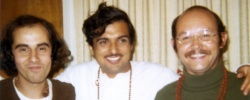 Randall Fontes, Kersee Bulsara and Bob Swanson emerged into an ancient land. They went through customs and with much difficulty hired a car to take them to the small town of Ganeshpuri about 60 miles North of Bombay.
Randall and Bob traveled to India on behalf of Sonoma State Universities "Field Experience in India" program as part of their undergraduate double major in Psychology and India Studies. They were preparing a multimedia documentary journal, slide and audio production for public presentation highlighting the culture, philosophy and the spirituality of India.
This web page is the beginning of an internet version of their documentary using the photos and audio that is currently available from the documentary and filling in with some photos from other sources.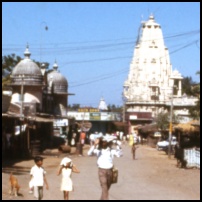 On November 24th Wednesday
Ganeshpuri, journey to the sacred town of the Tansa Valley. Pilgrimage to Bhagawan Nityananda's Ashram "Kalias Nivas", Samadhi and Shiva Mandir (Temple). Down the road is Swami Muktananda's "Shree Gurudev Ashram", Vajreshwari Mandir and Akloli Kund Shiva Mandir.
On December 2nd Thursday the three seekers left Ganeshpuri and were off to Bombay by bus and train to stay at the Ascot Hotel.
On December 3rd Friday the Pakistani Air Force (PAF) attacked Indian airfields at Srinagar, Avantipur, Pathankot, Amritsar and Faridkot. Soon after that, India was officially at war with Pakistan. Bombay was now in total blackout. The seekers were now in a war zone with air raid sirens blaring periodically.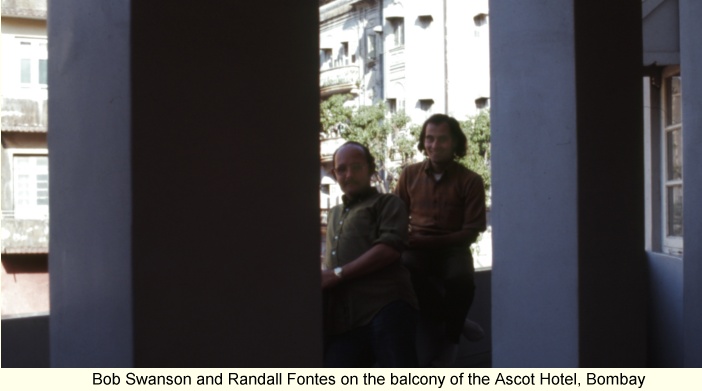 On December 6th Monday in the evening Randall, Kersee and Bob were sitting on the balcony of the Ascot Hotel when air raid sirens started blasting and the sky lit up with tracer bullets from Antiaircraft fire from the Bombay Defense Network. Five Pakistani aircraft were sited.
Kersee said "what happens to those bullets after they are shot in the air?" and Bob replied they come down. Then Kersee said, "what the hell are we doing out here?" They then quite gingerly went indoors and down the stairs to the lobby. Fortunately the Pakistani intruders were turned away.


Randall at Ascot Hotel - Bombay
All India Radio News - Audio
December 6th 1971 Bombay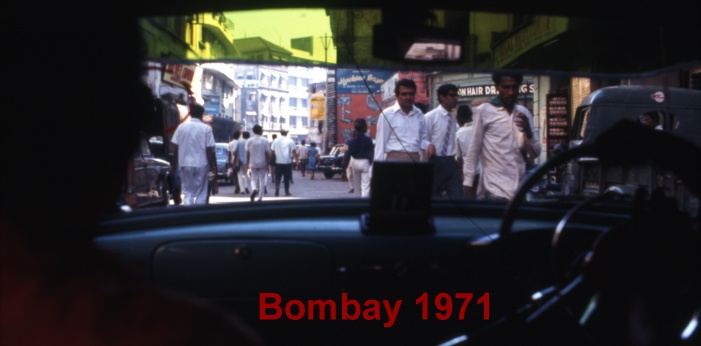 On December 8th Wednesday Back to Ganeshpuri to stay at Dr. Kothavalas Thermal Spring Baths and Health resort.
On December 11th Saturday with the war continuing, the trio decided to fly "Indian Airlines" to Poona (Pune) where they would land at an Indian Air Force's (IAF) "Lohegaon Air Base". They had heard that the great Bengali holy woman Anandamayi Ma was going to be in Poona. After going through a rigorous search they were allowed to board the aircraft with their cameras and audio equipment. After taking off they took a scenic picture from the plane as they rose in altitude over Bombay for the documentary that they were making.
Upon landing Randall, Kersee and Bob were arrested on suspicion of espionage, clandestine spying for the CIA to photograph Bombay's Defense Network. The United States had close ties to the Pakistani Military and was supplying armaments to them.
They were arrested the same day that the aircraft carrier USS Enterprise task force arrived in the Bay of Bengal. President Nixon ordered the Task Force there to intimidate the Indian government so that they didn't invade West Pakistan.
The Air Force Military Police made the initial arrest at 8:00AM and held them until 11:00AM when custody was turned over to India's "Criminal Investigation Department" (CID). Their Nikon, Minolta and Minox cameras were confiscated as well as their passports.
They were offered a deal they could not refuse.
The first choice offered was a dubious opportunity to be incarcerated in a cell at the historic "Yerawada Central Prison" where Mohandas Gandhi had been imprisoned for many years on a number of charges, sedition for his writings, breaking the salt law and for fasting in protest.
They truly hoped the second choice would be significantly better.
The other alternative that was offered was for the trio to pay to stay in a hotel and guards would be posted outside the door. They were prohibited from going outside the Poona Military Cantonment.
The choice was simple and they chose to stay at the Amir Hotel, and proceeded there at 2:00PM and three guards were posted. If it was not for Kersee's brother vouching for them, they most likely would have ended up wondering if Gandhi had ever occupied their prison cell.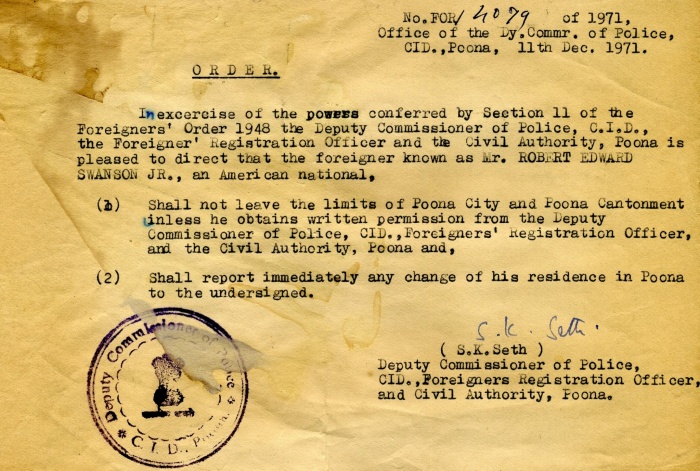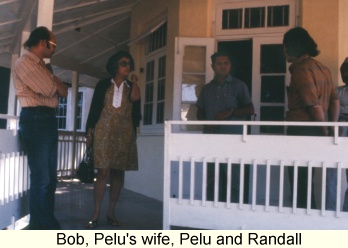 That evening Kersee's brother Pelu sent his car to pick up him and his friends for dinner at his home. Problem, the guards did not have a car to shadow the trio so they were delayed in leaving.
One guard called to see if an automobile was available but there was not. So they decided that if the trio promised to come back they would let them go alone. They agreed and had a lovely dinner.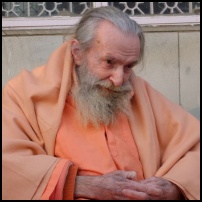 On December 12th Sunday they excused themselves from friendly guards and went in search of the Ashram of the Bengali woman Saint Anandamayi Ma who was the major reason for the excursion to Poona.
They met a very interesting Swami Vijayananda at Shree Shree Ma Anandamayi Ashram.

On December 13th Monday 2 CID officers visited with the pictures and colored slides from the confiscated cameras. The film from the tiny Minox spy camera revealed pictures of Kersee's elderly Aunt and uncle in their home. The CID officers then laid out a series of 36 slides from the Nikon on the table. Then they asked the big question, "Which one of these slides was taken from the airplane over Bombay?" Bob said, "I can't tell, all the slides are blank. The officer then said, "You don't understand." The officer then repeated, "which slide was taken from the airplane. Bob pointed and said, "it was this one." The officer picked up the slide and then said, "Thank you very much, sorry for the inconvenience and you are now released from custody.
What had happened was the color slide film was a new high speed Ektachrome film and processing for this new film was not available in India. So the film processing was likely done as if it were Kodachrome film therefore all the slides were blank.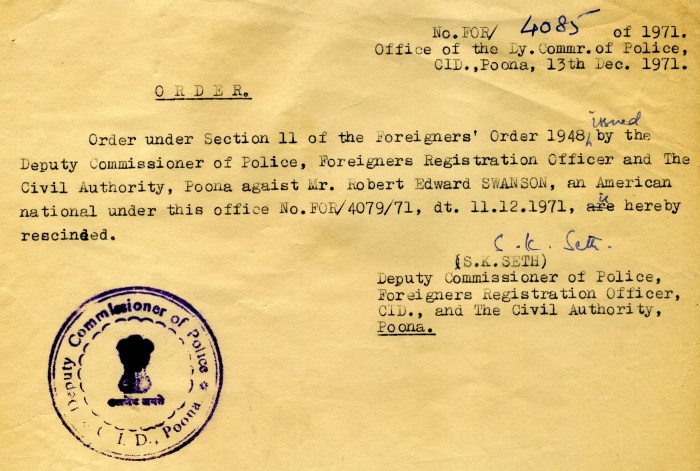 After the exhilaration of being cleared of any spy charges it was decided it was time for their next adventure. They went looking for the boyhood home of Meher Baba they had heard he had grown up in Poona. Meher Baba was a well known spiritual teacher who touched the heart of many around the world including an old friend Dr. Allan Y. Cohen.
In Quest of Meher Baba's boyhood home in Poona. They met his very gracious brother Jal Irani who gave them a tour of the home.
They were invited to enter Meher Baba's meditation room that is accessed through a small door off the court yard.

December 16th 1971 Thursday Indo-Pakistani War Ends, Pakistan Surrenders. Indian troops were welcomed as liberators and the nation of "Bangladesh" was founded.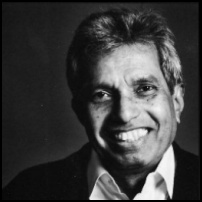 Chakrapani is a Vedic Astrologer from Kerala, South India.
He was born into a traditional Hindu family of astrologers where the practice of Astrology has been passed from father to son for many generations. Chakrapani began to receive training from his father while still a young boy.


Going to meet Anandamayi Ma and see Kersee's Brother and Family. Back to Poona.

In Quest of the
Spiritual Jewel of India
Special Thanks to Dr. Victor Daniels and Dr. Eleanor Criswell of Sonoma State University's "India Studies" program for making this adventure in India possible.