Meher Baba
February 25, 1894 – January 31, 1969

born Merwan Sheriar Irani
in Pune (Poona) India

His Name Meher Baba means "Compassionate Father"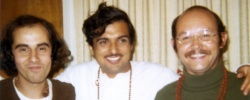 Randall Fontes, Kersee Bulsara and Bob Swanson on December 13, 1971 visited Meher Baba's boyhood home in Poona (Pune). They met his very gracious brother Jal Irani who gave them a tour of the home. Jal asked them if they would like to go into Meher Baba's meditation room off the court yard. Bob went first in to the small meditation room. Upon entering he kneeled and bowed at the Puja (Alter). When he bowed he said, "it felt like someone put their hand on the back of my head and banged it on the stone protruding from the floor. I turned my head to see who pushed me and no one was there."
When he emerged from the room he told Meher Baba's brother Jal what happened. Jal then told them the story of the time when Meher Baba's mother had come out to the court yard and heard a banging sound and found that Meher Baba was hitting his head on the stone protruding from the floor in front of the Puja. His brother said that was part of his brothers path to enlightenment or words to that affect.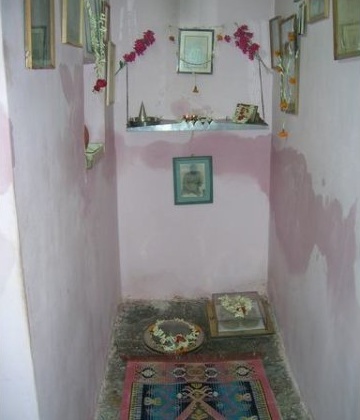 Meher Baba's Boyhood Meditation Room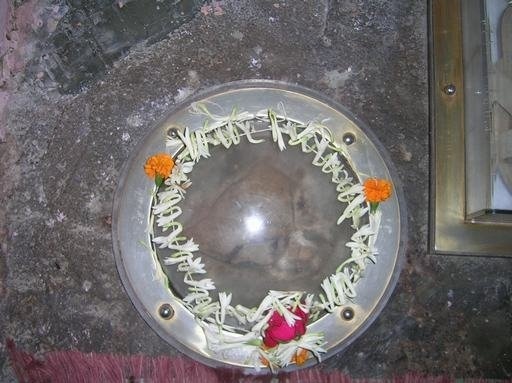 Meher Baba's meditation room is accessed through a small door off the court yard. Since their 1971 visit the protruding stone was covered to protect it and garlanded in reverence.
The Enlightenment of Meher Baba
"The unveiling that awoke Merwan to his true nature began suddenly and unexpectedly, interrupting his normal life as a student at Deccan College in Poona. One day, while cycling home from college, he had a dramatic encounter with an old Muslim woman known as Hazrat Babajan, accepted by many as a Perfect Master. Baba later described the moment this way:
Babajan called me one day as I was cycling past her tree; she kissed me on the forehead, and for nine months, God knows, I was in that state to which very, very few go. I had no consciousness of my body, or anything else. I roamed about taking no food. My mother thought I was mad, and called the doctor. My father understood, but said nothing. The doctors could not do anything ...I took no food but tea, which my elder brother Jamshed, who loved me very much, gave me. ([Eruch Jessawala], The Ancient One. A Disciple's Memoirs of Meher Baba. ed. Naosherwan Anzar (Englishtown, N.J.: Beloved Books, 1985), p. 219.)
The process of Merwan's unveiling lasted from Babajan's kiss in 1914 until the end of 1921. During this period, five masters, Hazrat Babajan, Sai Baba, Upasni Maharaj, Tajuddin Baba and Narayan Maharaj worked with Merwan to make him aware of his Avatarhood." (Meher Baba, The Awakner by Charles Haynes, Avatar Foundation, Inc. 1989)

"The suffering of unveiling was so great that Merwan attempted to relieve it by banging his head on the stone floor of his room. For long periods, he refused to eat or drink. After the kiss of Babajan, he was inwardly drawn to contact four other Perfect Masters, the most significant of whom were Sai Baba of Shirdi and Upasni Maharaj of Sakori. On seeing Merwan for the first time, Sai Baba looked at him and shouted "Parvardigar" which means "preserver and protector of all." (Meher Baba, The Awakner by Charles Haynes, Avatar Foundation, Inc. 1989)

YouTube Video taken by Visitor on January 22nd 2009
of Meher Baba's Boyhood Home Called Pumpkin House
"Baba House (India): Down an alley off Dastur Meher Road is the home where Meher Baba and His family lived from 1918 on. The address is 765 Dastu Road, and the alley is located to the left of Fatima General Stores and across from Ahuramazda Cycle Stores. Inside is a room (known as Baba's room) where Meher Baba kept Himself secluded after being unveiled by Hazrat Babajan. The room contains a number of personal items associated with Meher Baba's life. Baba's house is a private family residence, but Baba followers are welcome to visit Baba's room between 11:00 am to 1:00 pm and from 4:00 to 8:00 pm. (EBF) (BABA WORDS The Master's Glossary Edition One by Frank Davis)

The house owned by Meher Baba's parents, Sheriar and Shireenmai Irani, on "Dastur Meher Road" in Pune, where Baba periodically resided; during the early 1920s when the Perfect Master Upasni Maharaj was preparing Baba for His ministry as the Avatar, owing to the agony Baba experienced from being brought down from the Bliss-state to awareness of Illusion, Baba often secluded Himself in His room at this house and knocked His forehead against a particular stone which protruded from the floor." (I) (BABA WORDS The Master's Glossary Edition One by Frank Davis)

Jal Irani Brother of Meher Baba
Speaks Livingly of His Brother
Avatar Meher Baba Trust