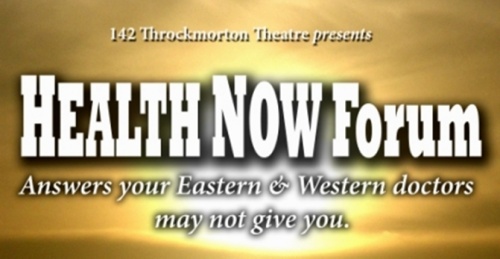 The Health NOW Forum
Focus: Paths to Wellness...Leaps to the Future
Thursday, April 8 7-9:30pm
Suggested Admission $15
Join us for another evening of the Health NOW Forums with Dr. Isaac Silberman and others, featuring discussions between panels of experts from diverse backgrounds and philosophies and the public. Each evening's panel will speak on the various related topics and then allow for discussion, questions and answers with the audience.
Tonight's Focus: Paths to Wellness....Leaps to the Future
Healing by integrating safe modern technology of light, music, psychology and form, featuring a demonstration and participation in "The Holotope Experience".
A discussion hosted by Dr. Isaac Silberman with contributing panelists including Kirby Said, and Randall Fontes, creator of the Holotope.
Health NOW Forum is a series of monthly health discussions open to the community. Suggested admission is $15 but no one will be turned away if unable to pay.
142 Throckmorton Ave. Mill Valley CA 94941 Telephone 415-383-9600