The Midas Touch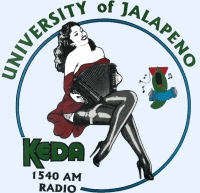 Richard " Güero Polkas" Davila, Ph.D - The University of Jalapeno
Gratis! Gratis! Gratis! nobody can say it better than Güero Polkas. He is described as a walking history book of Conjunto, Tejano and Rock-N-Roll music all rolled up in one. Güero Polkas is celebrating his 40th year in broadcasting and icons of his stature are very few. It should be said that he is one of the last personalities on radio in the true form of a personality. His induction into the radio business was inevitable - his father came in one afternoon and was explaining an FCC rule that although the radio station was a full time Spanish station it had to have ten percent broadcasting in English to abide by the FCC regulations. "My dad walks in and winks at my brother Manuel and myself - his going to pull my mother's leg. 'I'm having a problem finding two young guys about these guys ages, I need to put them on the radio because we're gonna start a rock-n-roll oldies but goodies show.' Well my mother responded, 'What do you mean you don't know where to find these kids, and you're looking for kids this age, why don't you put your own kids in there?' my dad just started laughing and the rest is history."
Güero and his brother Manuel started their first show "Teens Choice" at KUKA back in October, 1959 with the help of Sylvia Leal, (Manuel Leal's daughter) and a high school friend, Teresa Garza the two young boys had a tremendous collection of oldies dating back to 1953. While planning new and innovative things for their "Teens Choice" show at the radio station it was unavoidable that the boys would be exposed to Spanish music such as Isidro López Y Su Orchestra since that was the music the station was programming.
Güero says "We were into the radio mainly because of my dad and all the older announcers who were at KUKA at the time Ronquio Chávez, Pepino, Willie Ramos, there was a guy named Mario Gutiérrez 'El Pico de Oro,' Roy Valdez they use to call him Qué Piquito. Everybody use to have a nickname. Raul Hernández who now is a radio executive in McAllen, Texas."
Güero Polkas was in the Navy for two years and was stationed on the U.S.S. Shangri-La out of Mayport, Florida. The ship traveled to Spain, Italy and France and during this time he operated the radio station on the aircraft carrier. They asked for a volunteer and if anyone had experience working at a radio station and it was back to the radio business. During that time he was able to program some Spanish music on the radio station such as the Royal Jesters, Sunny Ozuna and Little Joe - two weeks later the program director was transferred to another ship so he became the program director. During the time he was stationed in California he met a disc jockey in San Francisco's KSOL his name Sylvester Stewart better known as Sly & the Family Stone he also was touched by Güero's talent and played Güero's recording with the Royal Jesters.
Güero explains that ever since he's been on the radio he has tried to record at least once a year. He goes on to say "I guess when I kick the bucket then all the stuff will come out, maybe it won't but I've had the privilege over the years of recording with many wonderful musicians five or six times just with Flaco Jimenez, Los Pasianos, Los Dos Gilbertos and Ruben Naranjo." He explained how he had his own orchestra at one time and had a record produced by the great Paulino Bernal. He has performed with great artists such as Augustin Ramirez and Little Joe and in the English market with such heavyweights as Willie Nelson and James Brown.
"I've done it all over the years - I maintained working for the radio station and tried to have a musical career. After five years I had to decide seriously what I wanted - to push my music, go on tour and try to make it as an artist, or did I want to stay home, be a disc jockey and play all the local musicians stuff and work with the family. The latter seemed to be more important, mainly the family kept me here. At the same time playing local bands because we really believe that if you can't get played in your own backyard how are you going to get started and we're still doing it. Besides the more musicians and less gangsters we have out there the better it is."
He has five sons and two daughters and all his children are in the music business in one aspect or another. But Güero's pride and joy are his eight grandchildren I quote him when he says "I'm not just Güero Polkas now, I'm PoPo Polkas all these 40 years I've been on the air my family has been growing."
Güero attended Brackenridge High School and was on the football team, he had constant battles with his coach concerning his radio career. He remembers telling the coach "You can string me anyway you want, but when I leave this high school I'm gonna be working on the radio - that's gonna be the rest of my life."
He is very well known for the phrases he uses on the air, which he says he picks up from "la raza" just being out among the people. Although it is almost like an obstacle course to tune in to a great legend such as Güero Polkas it is worth it just to hear those phrases. Driving in from Houston as long as I remember I always looked forward to getting close enough to San Antonio so I could change that dial to hear Güero Polkas!
Güero Polkas was the MC for the first ever Tejano Music Awards held. He was displeased with the way conjunto (bajo sexto and accordion groups) were ignored, especially since San Antonio is well known for it's conjunto music - he never returned to the award shows. He immediately approached Juan Tejeda who was just starting to work at the Guadalupe Cultural Arts Center, explained the situation and that is why you find the Conjunto festival one year behind the Tejano Music Awards. In speaking to one of KEDA's newest graduates from the University of Jalapeño, Richard Martinez I asked him to describe Güero Polkas, "He is a walking encyclopedia when it comes to music, if he sat down and really wrote an encyclopedia there would be no book that could compare with the information that this man has in his head about our history of music. He is an attribute to this radio station and to everyone especially the younger generations to educate them with the wealth of his knowledge of our music. The amount of experience in radio that he has, talent, knowledge, the comical aspect, the dry humor, Güero could be considered the actual radio business."
Everybody in this industry has been through Güero Polka's hands in one way or another, because he has played them or has started them. If you had to choose one word to describe him it would have to be support for all musicians no matter what race. So when you want to learn about music the only one that can teach you is Güero Polkas. He is the kind of guy that has brought his own identity to the table without any questions asked. The kind of talent that doesn't need a consultant to point out a hit - he knows through shear gut feelings. He is old but he is hip and when the book of Tejano music is written he will be there under TALENT!
by Lucy Moreno


More about: Richard (Güero Polkas) Davila