Castro Valley Forum/San Leandro Times
Visits the Alameda Naval Air Museum
by Bob Swanson, Sunday, August 17,2008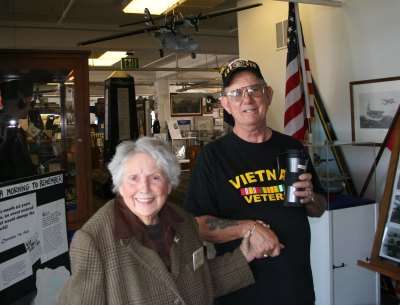 We were greeted at the entrance by Museum President Marilyn York an 86 year old, clear eyed, intelligent woman. Holding her hand was Chief Petty Officer Bronson Parry U.S. Navy Retired. The Chief is a museum Board Member in charge of Community Outreach. They are both very passionate about about this museum. They wish to preserve the old Air Terminal which houses the Historical Artifacts.

Left: Museum President and Founder Marilyn York, former WWII Wave and civilian Base worker with Chief Parry U.S. Nave Retired
Below: Reporter Robert Souza, Chief Parry, Frank Musso, Former Liver more City Manager and Museum Member Bob Swanson


We were told of the concern they have for the preservation of the Air Terminal Site that houses the Alameda Naval Air Museum. Many Volunteer hours have been put in to make this an archive of historical significance for the Community and to the Honor the Sailors that served here through World War II, the Korean War and Vietnam.
Chief Parry talks about the large radio controlled model of the Japanese Battleship Yamoto displayed here. The Yomoto was the largest battleship ever built. It was sunk by U.S. carrier based aircraft.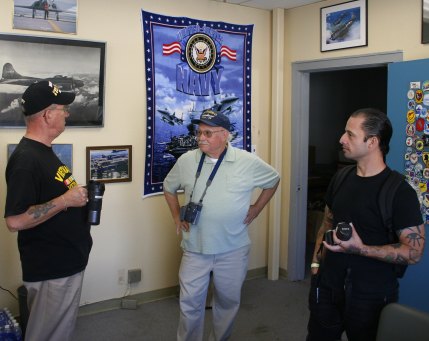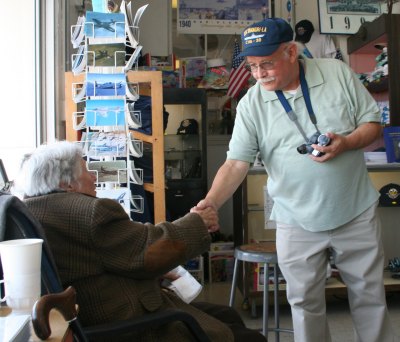 Our visit was very informative and appreciated. Thanks to Chief Parry and to Museum President Marilyn York for there warm hospitality. Click link below to view Castro Valley Forum Article:
Swanson Launches Effort To Save Alameda Navy Museum
By : Robert Souza : 8/19/08

Bob Swanson, a familiar face about town, was first introduced to Castro Valley when he came to visit a Navy buddy after returning from Vietnam to his new post at the Alameda Naval Air Station. (More)
bswanson7@sbcglobal.net

---
Vietnam vet an advocate for chemical casualties of war

By Eric Kurhi
The Daily Review
11/07/2008
ALAMEDA — Bronson "Chief" Parry remembers the sheets of liquid falling from the sky — clear, odorless, slightly oily drops that had the uncanny power to wither anything green in 24 hours. (More)
---
What is the Future of NAS Alameda
and the Alameda Naval Air Museum?