Castro Valley's Own Rachel Maddow
Go Rachel! Go Rachel!
Keep up the Fabulous Work.
Thank you for presenting that which is real.
As Stephen Colbert said at the 2006 White House Correspondents Dinner,
"Reality has a well known liberal bias."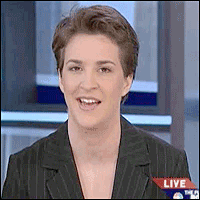 CVHS Grad To Host Nationwide MSNBC Show
By : Robert Souza : 8/26/08
Castro Valley Forum
If you're watching the Democratic National Convention on MSNBC this week, you're likely to see political commentator Rachel Maddow, who grew up in Castro Valley.
"Rachel has, and always had, tremendous energy," said her mom, Castro Valley resident Elaine Maddow in an interview at The Forum office Friday. "We keep saying to ourselves who is that kid and where did she come from?"
Elaine and Rachel's Father Robert both agree it is somewhat surreal to see their daughter on national television. "It's all incredible, and we are very proud of her," said Robert. (more)

East Bay's Rachel Maddow is cable's new talk-show titan
By Chuck Barney
Contra Costa Times
Article Last Updated: 10/14/2008 06:25:39 AM PDT
It's about 10:30 p.m. in New York and Rachel Maddow has just finished her nightly television gig at the MSNBC studio in Rockefeller Center, but she's still very much "wired." Now, she just desperately wants to cop some z's. (more)

Rachel Maddow
1990

Castro Valley High School Graduation Speech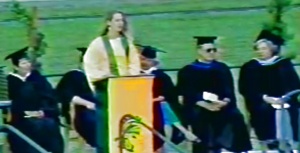 Rachel Maddow's wishes for her home town Castro Valley, California.
Partial text from her Castro Valley High School graduation speech

The year is 1990, we're living in the San Francisco Bay Area and this community is still pushing to ban textbooks and is still upset that there is not prayer in schools.

Castro Valley has the potential to be an exciting, interesting progressive community. But the people that dominate it today I don't think are ready to let that happen.

To those of you who are getting fulltime jobs, joining the military or are going to college, I implore you; give something back to this town!

We will carry the Castro Valley High School Diploma with us for the rest of our lives. We can turn this community around and let the existing oligarchy here know that we won't stand for their closed mindedness.

We the class of 1990 can make Castro Valley an interesting and exciting place to live, believe it or not. We, We alone are the ones who have to do it. We can't leave it up to our elders anymore because tonight we become those elders.

So to the class of 1990 I commend you on 4 years well spent. I think we made an original impression on this school that will last for a long time. But we have to do more.

Don't assume that things won't change here where you live. Make them Change. I wish the class of 1990 the best of luck in everything we choose to do. I warn the rest of this community here we come! Thank you.
Rachel Maddow Stuff
Rachel Maddow Official Website
MSNBC - Rachel Maddow Show
Rachel Maddow - Wikipedia