- Sunday, January 6, 1974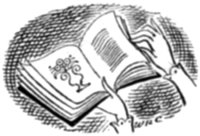 Relation of Plants and Mankind
THE SECRET LIFE OF PLANTS.
By Peter Tompkins and Christopher Bird. Harper & Row; 402 pp.; $8.95

Reviewed by
John White

ONCE in a while you find a book that stuns you. Its scope leaves you breathless. This is such a book.

"It explores the world of plants and their relation to mankind as revealed by the latest discoveries of scientists by many disciplines. It includes remarkable information about plants as lie detectors and plants as ecological sentinels; it describes their ability to adapt to human wishes, their responses to music, their curative powers, and their ability to communicate with man. . ."

Bay Area people will find many familiar places mentioned here. The career of Luther Burbank, who lived in Santa Rosa, is lovingly told. The recent work in psychic research at Stanford Research Institute in Menlo Park is mentioned (although SRI is once confused by the authors with Stanford University).

Two young plant researchers at Sonoma State College, Randall Fontes and Robert Swanson, get proper notice for their important work, as does William Tiller, a professor at Stanford, and Marcel Vogel, a chemist at IBM in Los Gatos. Arthur Young, inventor of the rotor system for the Bell helicopter and founder of the institute for the Study of Consciousness in Berkeley, also gets notice.

"The Secret Life of Plants" is both local and universal. It is a comprehensive, compelling book that sacrifices little in depth for the sake of being broad.