Bob Swanson to be Honored for
Volunteer Work Next Thursday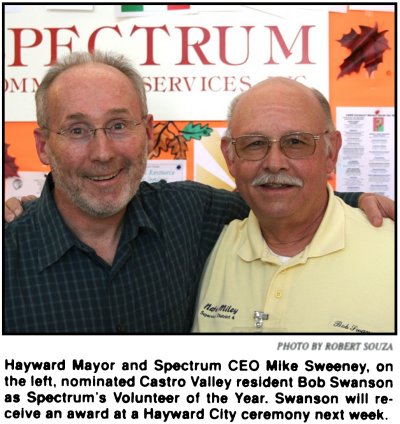 By Robert Souza
CASTRO VALLEY FORUM
October 15, 2008
Castro Valley man-about-town Bob Swanson will be honored for his volunteer efforts by the City of Hayward next week.
"I'm currently the vice president for Spectrum and have volunteered here for the past eight years," Swanson said Thursday at the Spectrum offices in Hayward. "And, well, what I do for Spectrum is kind of hard to define, because I do a little bit of everything."
Hayward Mayor Mike Sweeney, who is also CEO of the private, nonprofit Spectrum Community Services, said. Swanson "provides leadership and a wealth of experience with just about any issue we need help with. He always looks for ways to help out with issues in the community, whether it's for our clients or funding."
Founded in 1971, Spectrum has provided meals, fall-prevention and self-sufficiency courses to seniors in addition to computer literacy classes and assistance for PG&E bills to those eligible from their modest Grove Way offices. "I've always been interested in senior issues, and the former CEO wanted me involved on the board, so I decided to come help out," said Swanson, who also an aide to Supervisor Nate Miley.
Spectrum served 110,000 nourishing meals to seniors last year, and-with Swanson's help-is hoping to move its entire facility to another parcel of Cal-Trans owned land adjacent to its current location.
"I used to be a baby boomer and now I'm a senior boomer," Swanson said with his trademark raspy laugh. "It's really quite an honor to have been nominated and recognized. I just do what I think is right and that's just how I've always done things."
The City of Hayward will hold its 31st annual recognition and awards dinner to honor Swanson and 31 other outstanding volunteers on Thursday, Oct. 23, at Centennial Hall in Hayward.
For more information, call 272-6692.
.



City of Hayward

Volunteer & Awards Dinner
October 23, 2008
Photos