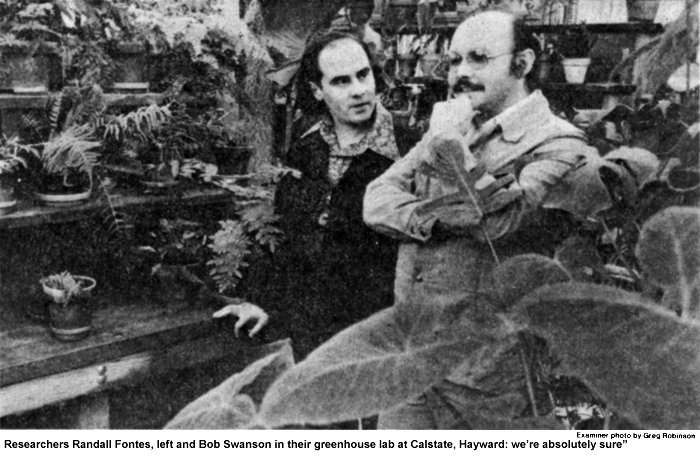 MONDAY, MARCH 28, 1977
By Ivan Sharpe
"Everybody's been saying that plants respond to a person's emotions," says Randall Fontes, fondly stroking a tiny mimosa leaf and watching the rest of the plant's leaves fold up like a ticklish centipede.
"But we're the only people who have the proof."
Before you yawn or snort with disbelief, think of the implications. At last we would have the psychic device sought by former astronaut Edgar Mitchell and others - a sensor that will measure the mind's energy output much like a gauge registers an electrical current or radio wave.
Every self-respecting ghost hunter will want a plant in his kit. Psychiatrists will have them in their consulting rooms to aid in probing your mind. Personnel officers will use them to measure your charisma.
More far-out possibilities suggested by Fontes and his co-researcher Bob Swanson: If you can detect and measure psychic energy, the next step is to modulate it like a TV or a radio signal.
And if a timeless energy force exists - as the two East Bay researchers claim to have proved - and if it turns out to be faster than light as many suspect, then you really have the stuff of science fiction.
Think of instantaneous communication between the stars, or a Star Trek-like transporter that will decompose your body and recreate it somewhere else.
But by then, the organic biofield sensor - as Fontes and Swanson call it - won't be a simple plant. In its ultimate form, it will probably be a semi-living crystal.
As a first step, the researchers claim to have isolated the cell that triggers a plant's electro-chemical chain reaction when stimulated by strong emotion or psychic energy. It is the parenehyma cell, one of thousands of cells in the plant stem.
"It is very dull and boring to the public. But we have done this in a way that is acceptable to the scientific community," Fontes claims.
"Some living things such as plants do seem to be an interface between this world and another dimension. Plants will help us to explore the psychic world."
Fontes and Swanson, some of whose experiments have been done at Cal State, Hayward, are products of the hippie era of the 60s. After experiencing the psychedelic effects of LSD, they became fascinated with altered states of consciousness.
Both are followers of an Indian guru, Swami Muktananda. Swanson, 30, is a psychology instructor at De Anza College who has a 2O-pound black cat named Onyx he claims can count and do square roots. Fontes, 31, more intense and quick-talking than, his partner, calls himself a parapsychologist.

Psychic magazine calls them the world's leading plant sensitivity researchers. They have appeared in an NBC special and on TV talk shows. And they will be featured in a $1 million Hollywood documentary, "The Secret Life of Plants," that will be released in theatres this fall.
They will be lecturing tomorrow at the World of the Unexplained Museum in San Francisco, where they recently set up a display of a $3 philodendron houseplant. Visitors can try directing nasty thoughts at the plant and observe the results, if any, on a device resembling an EEG brain wave machine.
What Fontes and Swanson did recently was to try to prove a theory propounded eight years ago by Cleveland Backster, a former CIA lie-detector expert who claimed startling results when he attached a polygraph to a plant and then threatened to burn one of its leaves.
The world of science was unimpressed. Researchers at Cornell, Pennsylvania State University and Washington State University tried to repeat Backster's experiments and failed. As recently as 1975, Backster also failed to convince a gathering of respected scientists in New York.
They agreed that plants possess a nervous system, as first suggested by Darwin, but they were skeptical that soothing words, soft music or threatening thoughts could affect it.
Fontes and Swanson did their experiment in conjunction with a major Bay Area research institution, where they showed 11 subjects slides showing violence, sex and beauty.
Shielded from stray electromagnetic signals and other radiation, an instrumented plant registered their feelings. The results were reported in a highly technical 34-page report. The authors declared it would have taken odds of 2,000 to one for what happened to have been by chance.
The sexual scenes produced the most responses in the plant. But the biggest response came when one subject looked at a slide of a ski slope.
"The plant went wild. It turned out that he (the subject) had broken his leg in a ski accident about a month before, and the plant picked up on his emotions," Fontes said.
Another slide of a peaceful Oregon waterfall also disturbed the plant. Fontes said the scene happened to be near where one of the subjects was raised, and it moved him very emotionally.
The two researchers are satisfied that their results prove Backster's theory and that the scientific community will accept them. But they need more data. They need to test up to 1,000 more individuals. And that costs money. A rich Texan provided the $10,000 for the preliminary experiment.
"To our knowledge, this is the most scientific and conclusive evidence in the world that plants are sensitive," Swanson said.
"We are absolutely sure of the effect. We know it exists. We have seen it. Happening enough spontaneously in the lab to be sure that plants act like an antenna for raw psychic energy,"
Added Fontes: "The energy has been discovered, but not yet isolated. Nobody knows what electricity is either, but we know how to control and use it."