Anti-Submarine Warfare
Fighter Squadron One

VSF-1 War Eagles
Administration and Personnel Offices

USS Shangri-La Mediterranean Cruise
September 29, 1966 - May 20, 1967
City of Hayward Volunteer & Awards Dinner October 23, 2008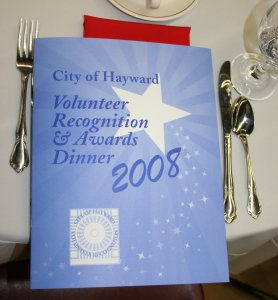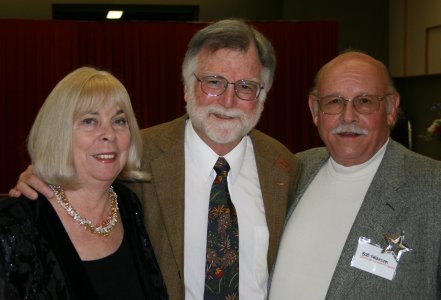 Mary and Paul Lukes (my Navy buddy and Mentor) with me Bob Swanson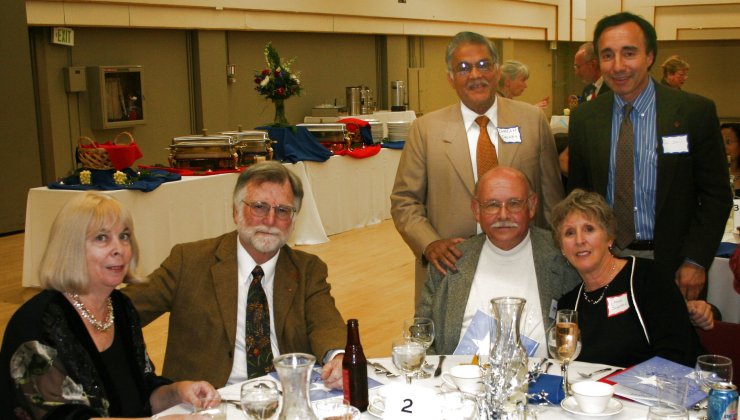 Mary, Paul, Bob and wife Donna with friend Dr. Dharam Salwan and David Saldivar



The City of Hayward celebrates thirty-one years of honoring its volunteers. Every Hayward agency has been asked to select a volunteer - a Shining Star - who has given outstanding service to the agency and to the Hayward community. Below are the faces and stories of these 2008 Shining Stars of Hayward. Their contributions and volunteerism make the City of Hayward shine with pride and gratification. We honor each and every person who has strengthened community life in Hayward and has inspired others to give of themselves. They form an impressive body of volunteers, and remind us that each of us has something to give to our communities.
Bob Swanson
Spectrum Community Services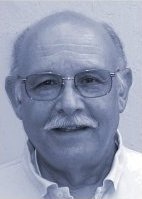 A native of Illinois, Bob served in Vietnam and was discharged in 1967 from Alameda - entering Chabot College, then Sonoma State, graduating in psychology. "For many years Bob has been a terrific tenantís rights advocate, and a human and civil rights advocate; he's worked extensively with the local East Indian community." Bob served on the County Housing and Community Development Advisory Committee for 21 years, and has added his own wry voice and tremendous organizing ability to many other local community Boards. He is currently VP of Spectrum. Bob works for Supervisor Nate Miley as constituent liaison and community organizer. He thanks his wife Donna for her unwavering support.

Bob receives Award from
Hayward Mayor Mike Sweeney

Assemblymember Mary Hayashi, Bob
and Congressmen Pete Stark
Photos by Charlie Engel

Video Requires Adobe Flash Player (Download)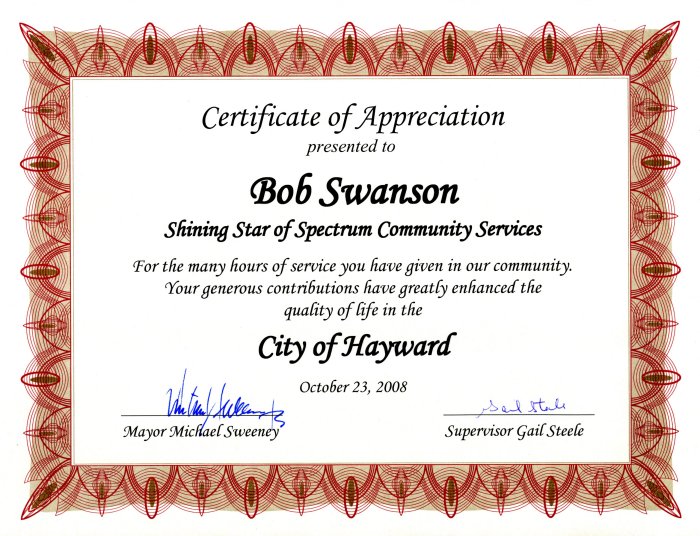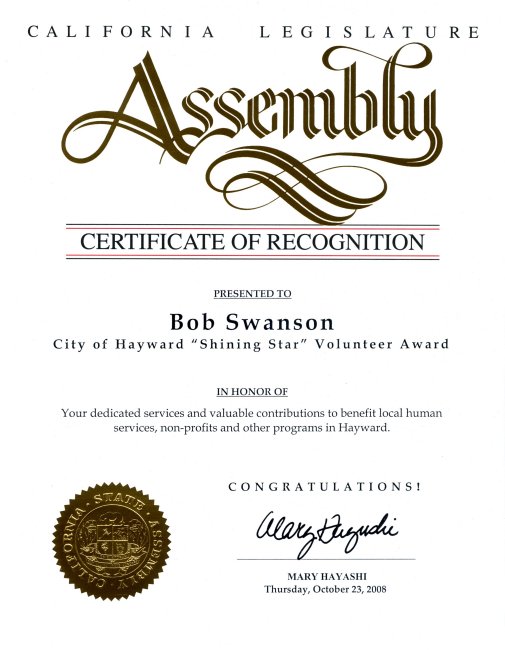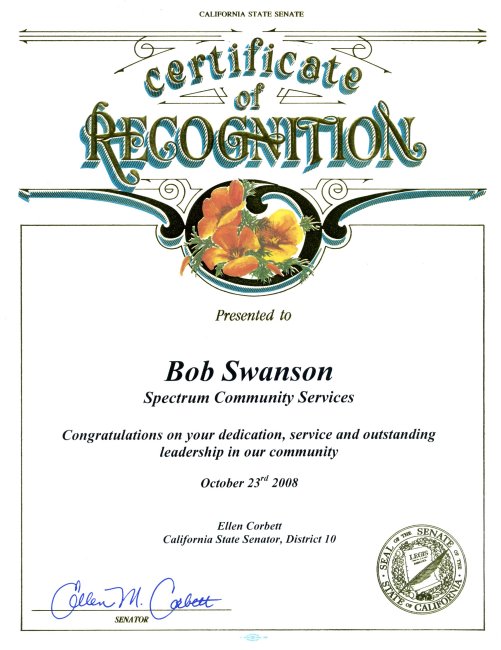 --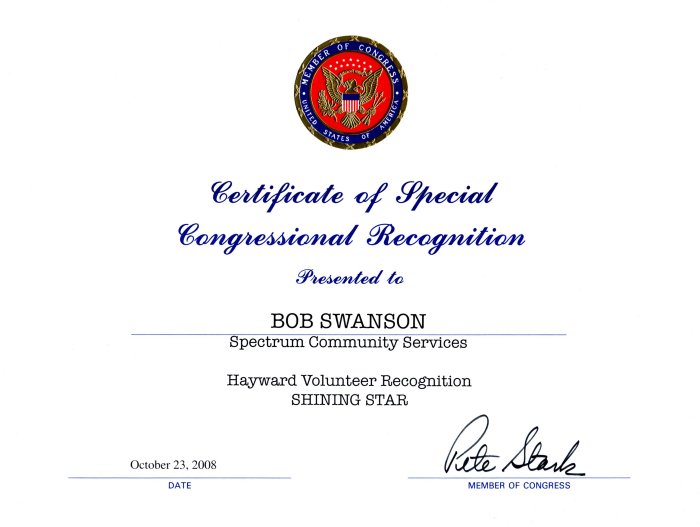 Click here for Text Only of Resolution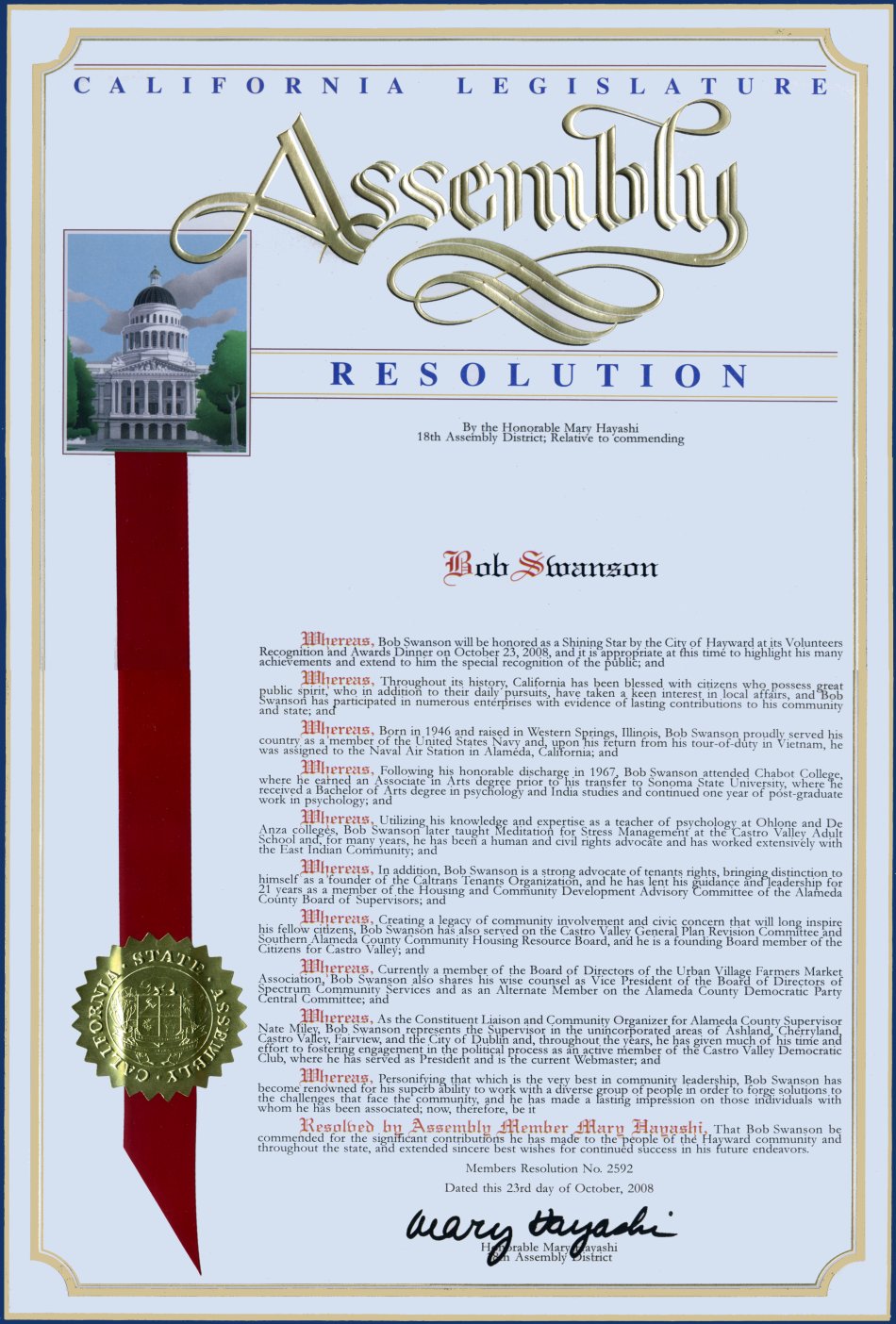 Click here for Text Only of Resolution
Support the NAS Alameda Naval Air Museum and the USS Hornet Museum
bswanson7@sbcglobal.net



---
Carrier Air Wing 8 (CVW-8) - 1966/1967 Cruise
VF-13 (F-8D)
VF-62 (F-8D)
VA-83 (A-4C)
VA-81 (A-4C)
VSF-1 (A-4B)
VAH-10 Det. (KA-3B)
VFP-62 Det. (RF-8G)
VAW-12 Det. (E-1B)
HC-2 Det. (UH-2A/B)



© Bob Swanson 2008