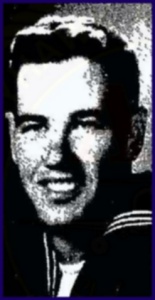 Hayward Flier Dies In Carrier Crash - Oakland Tribune Tues., Oct. 20 1964

Investigators today are trying to determine the cause of an unusual accident aboard the carrier Midway which claimed the lives of a Navy pilot and a flight deck crewman.

The dead were identified as Airman George W. Lipe Jr., of 27879 Havana Ave., Hayward, and Lt. Paul M. Grafton, who lived at Lemoore Naval Air Station.

The accident occurred Saturday night while the Alameda based carrier was conducting air operations near Hawaii.

Grafton's A4 Skyhawk jet was landing on the carrier when it crashed into another aircraft still on the flight deck.

The other jet, piloted by Lt. Warner F. Lee who was not injured, had just landed and was being towed off the deck.

Airman Lipe, who was married just a month ago, was at the front of Lee's aircraft directing it. He was struck down during the crash and fatally injured. He leaves his widow Eva.

Witnesses said Grafton ejected from his plane at the moment of impact. It was not known whether he ejected intentionally or whether the ejection seat was accidentally fired.

There was also no explanation of why the flight deck was not cleared before Lt. Grafton came for his landing.
---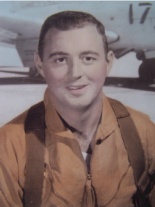 Lieutenant Paul M. Grafton '55 U.S.N.R.
Paul was born at Carney Hospital on May 30, 1937, to Edmund Grafton and Mary (Kelly) Grafton. Paul had two sisters, Mary Anne and Liz, and two brothers, David and Vincent.
He attended the Willard School in West Quincy and then on to Archbishop Williams High School, where he participated in wrestling, hockey and baseball. Paul enjoyed high jumping at the quarries in West Quincy with his friends. He raced both small and larger class sailboats in college.
Paul went on to Maritime Academy and joined the Navy while attending school. He was stationed aboard the U.S.S. Wrangell and the Destroyer Leader U.S.S. Norfolk. Paul attended Naval Air Station in Florida for basic training and advanced training at Kingsville, Texas. He was a Navy pilot flying an A4B Skyhawk aircraft on board the Aircraft Carrier CVA 41 U.S.S. Midway when he lost his life on October 17, 1964, during the Vietnam conflict. Paul made a promise with a classmate and close friend, for each to watch over the other's family. From October 1964 to this day, Captain Harry Cannon has called me every month and kept me on an even keel.
Yes, I still miss you Paul, Thank You and God Bless. You and our other five heroes gave your lives for us and we have the privilege of honoring you today. Please remember all those that have served are serving and those that will serve. Our prayers are with all those that gave their lives for our freedom. David P. Grafton (Brother) _
When I first met Paul, he was assigned to the U.S.S Norfolk, based in Norfolk, Virginia. He loved the Navy, his Sunbeam car, and any water sport. We were married in December 1962. His desire was to become a naval aviator, rather than remain in the surface warfare branch of the Navy. After receiving his wings he was ordered to Light Attack Squadron VA-22 based at Lemoore, California, flying A4 aircraft. When Paul died he left behind two children, Brian, who was two at the time, and Paula Michele (named after Paul) who was born after his death. Babs Demand (Paul's widow)