Next meeting: 4th Tuesday on every month 7:00PM at the Faith Lutheran Church 20080 Redwood Rd. Graydon Room. (Map)
Due to the current social distancing requirements, the meetings will be held using ZOOM. To attend the meeting request the Zoom link at: cvdemsclub@gmail.com

Castro Valley Farmers' Market
Saturday, 9:00am to 1:00pm at BART Station - Year Around

Join the
Club
Click Here




Castro Valley Local Legislators and Dems Club on FaceBook, YouTube, Twitter, Instagram
Alameda County Democratic Party Picnic July 30, 2022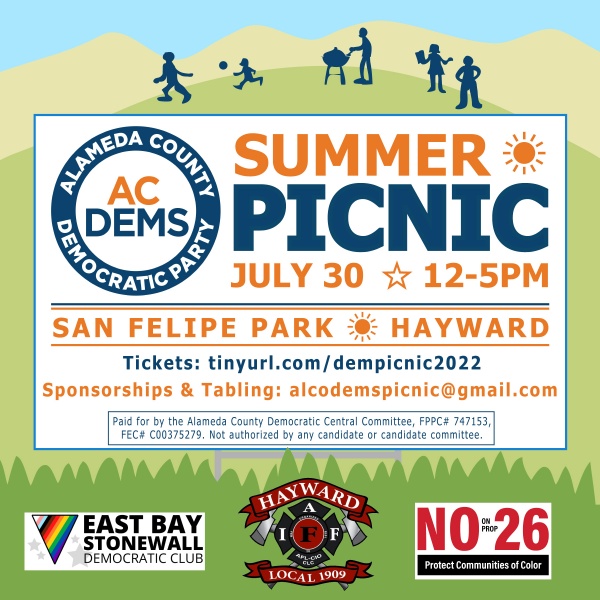 Castro Valley Democratic Club Annual Picnic July 24, 2022
John Maher - Master of Ceremonies
Bill Quirk, Assemblymember 18th Assembly District
Nate Miley, Alameda County Supervisor District 4
Sara Lamnin, Hayward City Councilmember, HARD Board Candidate
Eric Swalwell, Reelection Congressman District 15, Represented by Jacob Apkon, Staff
April Chan, Candidate for EBMUD Board
Liz Ortega for 18th Assembly
Shawn Kumagai, Dublin City Councilmember for 18th Assembly
Pamela Price, Alameda County District Candidate
Matt Turner, EBMUD Board Candidate
Sara Raymond, Castro Valley School Board Candidate
Frank Mellon, EBMUD Board
Robin Torello, Eden Area United Democratic Campaign
Mimi Dean, Oro Loma Sanitary District Candidate, Represented by Rick Hatcher, HARD Board
Julia Roche - Candidate for Hayward City Council
Rita Duncan, reelection for Oro Loma Sanitary District
Dennis Waespi, Reelection for East Bay Regional Park District Board Ward 3
Ellen Corbett, East Bay Regional Park District
Roxanne Lewis, Reelection Eden Health District, Representing Castro Valley and Fairview
George Syrop, Candidate for Hayward City Council
Fred Simon, San Leandro City Council running for Oro Loma Sanitary District
Alfred Twu, Candidate AC Transit Board
Rebecca Kaplan, Alameda County Supervisor District 3 Candidate, Represented by July Wedge
Kristy (Doorman) Woerz, Reelection for Castro Valley Sanitary District
Dave Siegel and Mary Swain, President Castro Valley Democratic Club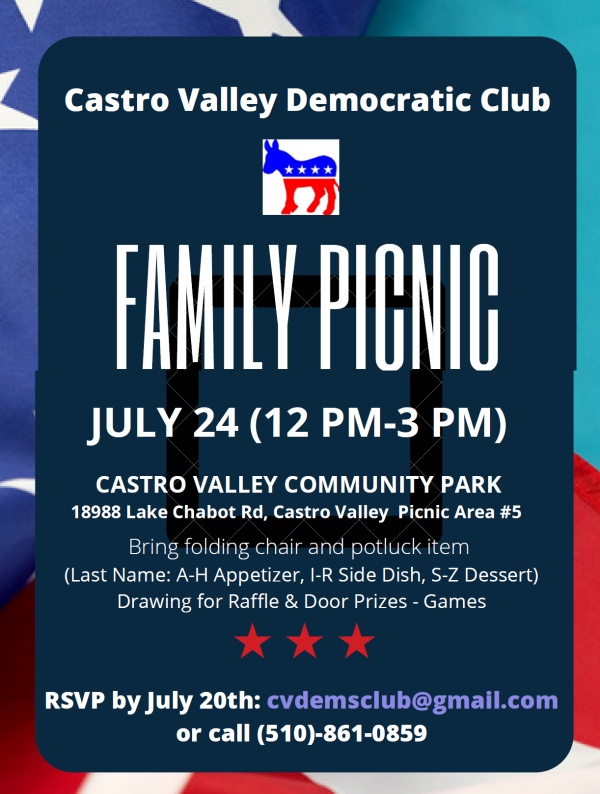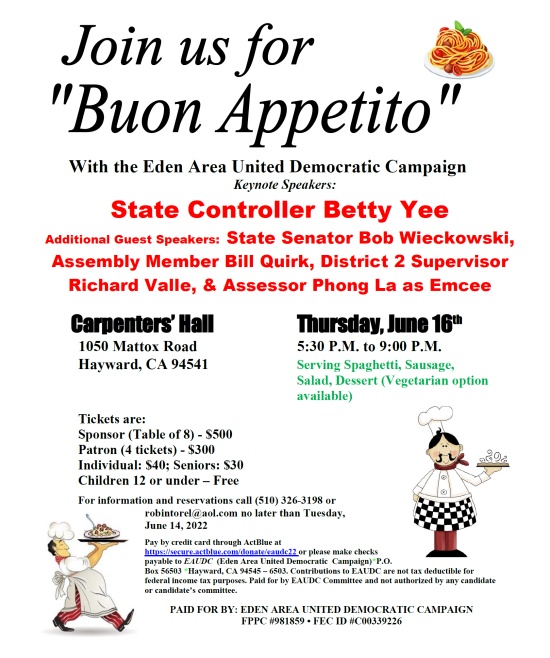 ELECTION RESULTS - June 7, 2022
Alameda County Registrar of Voters Results June 7, 2022.
https://www.acgov.org/rovresults/247/indexA.htm
Secretary of State of California Primary Election Tuesday, June 7, 2022
https://electionresults.sos.ca.gov/


Alameda County Democratic Party Endorsements
Primary Election – June 7, 2022
For information on our 2022 Primary Endorsement process click here.
The Democratic Party has endorsed the following candidates and measures for the June 2022 Primary Election. Statewide endorsements are made by the California Democratic Party. Local endorsements are made by the Alameda County Democratic Party.
Candidates:
U.S. Senate (special election) – Hon. Alex Padilla
U.S. Senate (regular) – Hon. Alex Padilla
U.S. Congress Dist. 10 – Hon. Mark DeSaulnier
U.S. Congress Dist. 12 – Hon. Barbara Lee
U.S. Congress Dist. 14 – Hon. Eric Swalwell
U.S. Congress Dist. 17 – Hon. Ro Khanna
Governor – Hon. Gavin Newsom
Lieutenant Governor – Hon. Eleni Kounalakis
Secretary of State – Hon. Shirley Weber
Controller – Hon. Malia Cohen
Treasurer – Hon. Fiona Ma
Attorney General – Hon. Rob Bonta
Insurance Commissioner – Hon. Ricardo Lara
Superintendent of Public Instruction – Hon. Tony Thurmond
Board of Equalization, Dist. 2 – Sally Lieber
State Senate Dist. 10 – Hon. Aisha Wahab
State Assembly Dist. 14 – Hon. Buffy Wicks
State Assembly Dist. 16 – Hon. Rebecca Bauer-Kahan
State Assembly Dist. 18 – Hon. Mia Bonta
State Assembly Dist. 24 – Hon. Alex Lee
Alameda County Superior Court Judge Office 1 – Tamiza Hockenhull
Alameda County Superior Court Judge Office 11 – Pelayo A. Llamas
Alameda County Superior Court Judge Office 21 – Michael Bishay
Alameda County Supervisor Dist. 2 – Hon. Richard Valle
Alameda County Supervisor Dist. 3 – Hon. Rebecca Kaplan
Alameda County Assessor – Hon. Phong La
Alameda County Auditor-Controller/Clerk-Recorder – Hon. Melissa Wilk
Alameda County Sheriff/Coroner – Yesenia Sanchez - Endorsed by CV Democratic Club
Alameda County Treasurer/Tax Collector – Hon. Henry Levy
Alameda County Board of Education Trustee Dist. 1 – Hon. Joaquin Rivera
Alameda County Board of Education Trustee Dist. 4 – Hon. Aisha Knowles
Alameda County Board of Education Trustee Dist. 7 – Cheryl Cook-Kallio
Union Sanitary District Director Ward 3 – Hon. Jennifer Toy
Zone 7 Water District Director – Hon. Sarah Palmer, Hon. Olivia Sanwong, Dawn Benson
Ballot Measures:
Measure A* – Livermore Valley JUSD Parcel Tax Renewal VOTE YES
Measure B – Alameda USD School Repair & Improvement Bond VOTE YES
Measure C – City of Oakland Parcel Tax Renewal VOTE YES
* May 3 Special Vote-by-Mail Election
Download in pdf format;
2022 06 07 Alameda County Endorsements.pdf
2022 06 07 Statewide Democratic Party Endorsements
`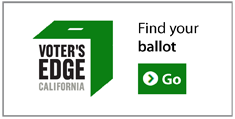 Castro Valley Democratic Club
at the Rowell Ranch Rodeo Parade May 14, 2022

| | |
| --- | --- |
| NBC Bay Area - Organizers Hold Support Rally for Ukrainians in Castro Valley March 26, 2022 | Video: Ukraine Rally – Saturday, March 26, 2022 in Castro Valley |
Join Us Saturday March 26th 2022 for the
Castro Valley Ukraine Rally! March 26, 2022 at 10:30am
Join Us at the Corner of Redwood and CV Blvd.
January 6, 2022 Resist the Insurrectionists! Castro Valley, California

January 6 was a violent and deadly attack against all Americans – against our country, our democracy, and our freedom as voters to choose the leaders that represent us so that we have a government of, by, and for the people.

One year later, the same faction that attacked our country on January 6th is hard at work silencing our voices by restricting our freedom to vote, attacking fair voting districts, and quietly preparing future attempts to sabotage free and fair elections and with it our democracy.

So on the anniversary of January 6, Americans across race, place, party, and background are holding candlelight vigils to say: In America, the voters decide the outcome of elections.

The promise of democracy is not a partisan issue but a calling that unites us as Americans. To prevent this kind of attack from happening again, our elected leaders must pass urgent legislation that will protect this country from anti-democratic forces who are continuing their efforts to destroy it.

Coming together, we can prevent another January 6th attack and realize the promise of democracy for all of us - no matter our color, zip code, or income - so we all have an equal say in the decisions that shape our daily lives and futures.

Hi CVDC Friends,
You are invited to celebrate the holidays at our annual CVDC Holiday Party.
Date: Sunday, December 12, 2021
Time: 2 PM to 5 PM
Place: Val & John Giles
RSVP by 12/9 with number of guests: cvdemsclub@gmail.com
• Last Name (A - H) bring appetizers
• Last Name (I - P) bring salad or side dish
• Last Name (Q - Z) bring desserts
All guests are required to be fully vaccinated to attend party.
CVDC t-shirt orders will be available for pick up at the Holiday Party. Please contact Dave Siegel to place order or arrange time for special pick-up at email: picchisiegel@sbcglobal.net
If you wish to donate an item for door prize, please reply by email to cvdemsclub@gmail.com by 12/9.
Happy Holidays!
Mary Swain
Alameda County Supervisors Vote on Final Redistricting Map
Which gives the Urban Unincorporated Area 2 Supervisor's votes
on the Board of Supervisors and not just 1 vote!

Full 3 hour video link: https://alamedacounty.granicus.com/MediaPlayer.php?view_id=2&clip_id=7316

Slide Show - Castro Valley Democratic Club Picnic July 25, 2021


Video - Castro Valley Democratic Club Picnic July 25, 2021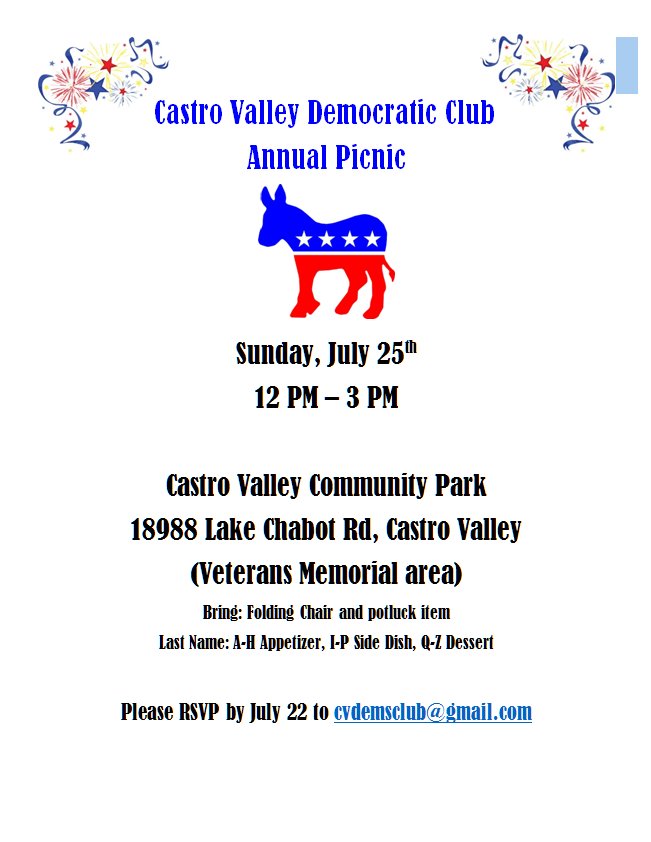 Special Meeting With Congressman Eric Swalwell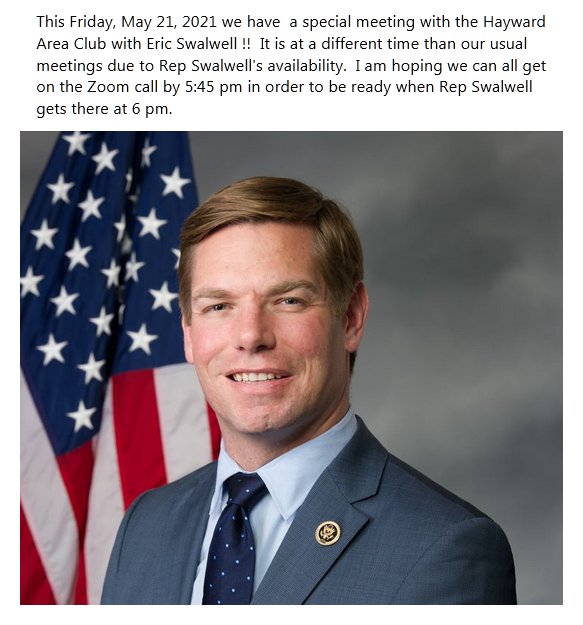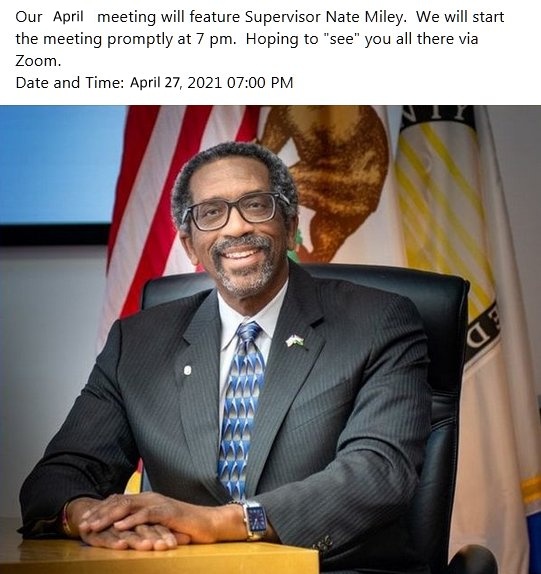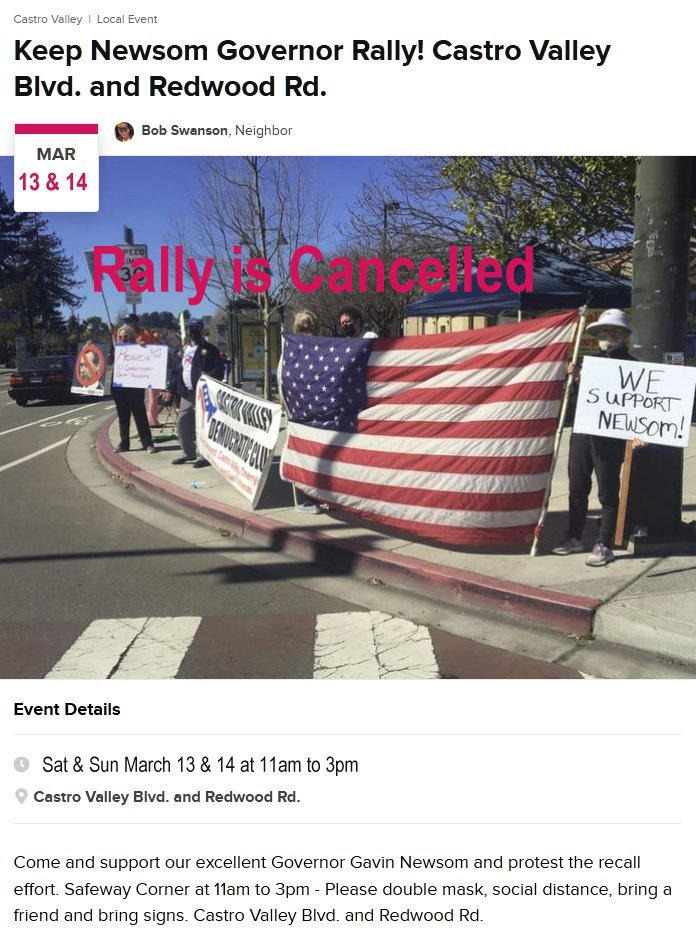 Stop the Recall of Our Good Governor Gavin Newsom. March 7, 2021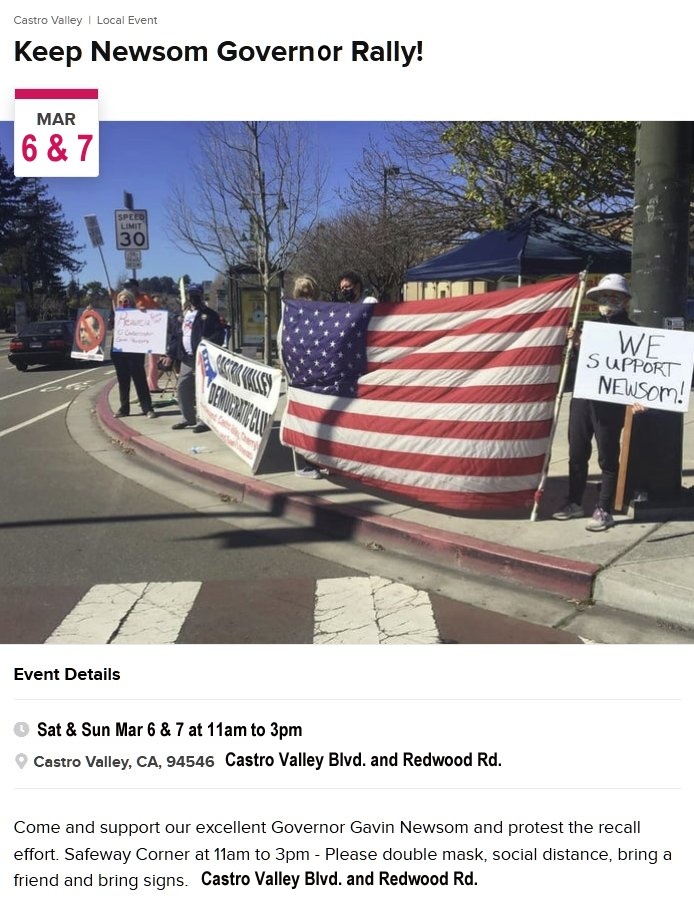 Letter In Support of Our Governor Gavin Newsom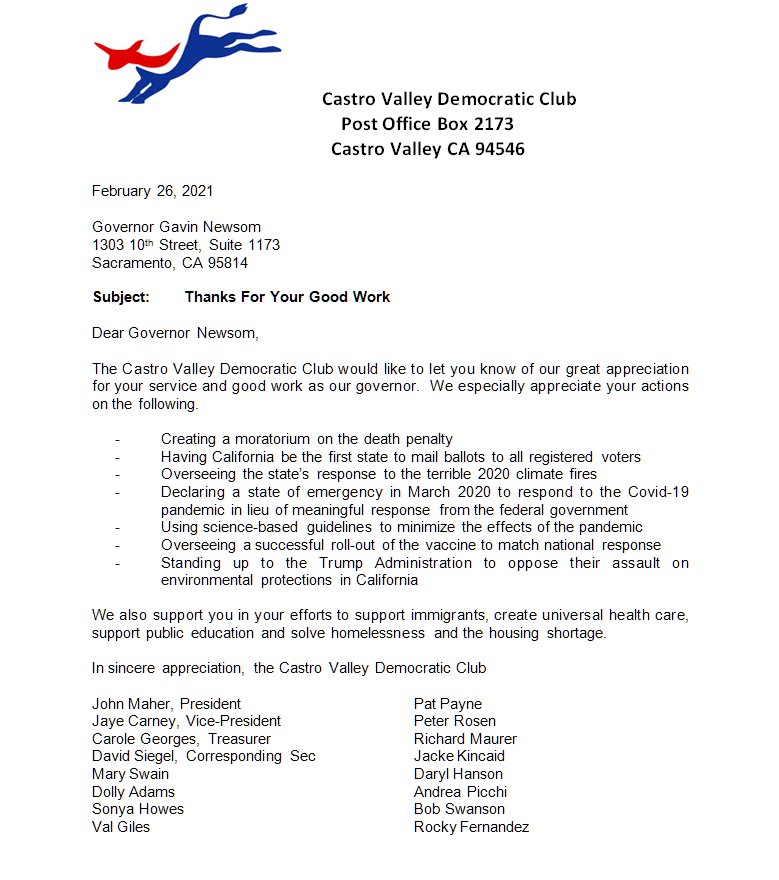 Assemblymember Bill Quirk Our Guest Speaker
at our February 23, 2021 Meeting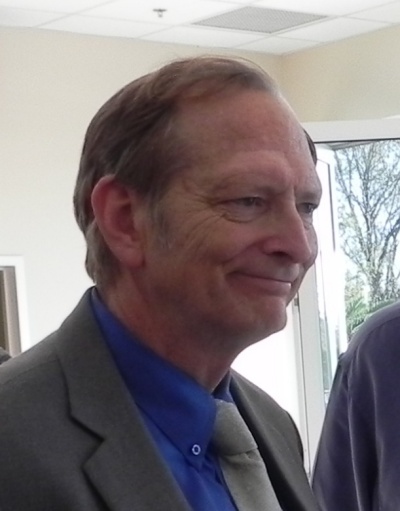 Day 5


Governor Newsom lays out plan to open mass vaccination
site to Oakland Coliseum


Compassionate Human Beings President Elect Joe Biden and Kamala Harris Victory!!!

Castro Valley Democratic Club 2020 November 3rd VOTE!!!
The Castro Valley Democratic Club is pleased to announce the following locally endorsed candidates for the November 3rd election 2020
Pam Russo, R.N.
Eden Township Healthcare District
Peter Rosen
Hayward Area Recreation & Park District
Rick Hatcher
Hayward Area Recreation & Park District
Dolly Adams
Castro Valley Unified School District
Lavender Whitaker
Castro Valley Unified School District
John McPartland
BART Board of Directors

The Castro Valley Democratic Club supports Democratic Candidates to National, State and Local offices and fosters continuing action in the Castro Valley community.

Joe Biden - Kamala Harris Presidential Campaign 2020

TOGETHER WE WILL BEAT DONALD TRUMP!
Kamala Harris
The first Black and Indian American woman to represent California in the United States Senate, Kamala Harris grew up believing in the promise of America and fighting to make sure that promise is fulfilled for all Americans. Kamala's father immigrated to the U.S. from Jamaica to study economics and her mother immigrated from India. Kamala's mother told her growing up "Don't sit around and complain about things, do something," which is what drives Kamala every single day.
Kamala started fighting for working families in the Alameda County District Attorney's Office, where she focused on prosecuting child sexual assault cases. From there, she became the first Black woman elected as San Francisco's District Attorney. In this position, she started a program to provide first-time drug offenders second chances with the opportunity to earn a high school degree and find a job.
Kamala Harris
In 2010, Kamala became the first Black woman to be elected California Attorney General, overseeing the country's second largest Justice Department, only behind the U.S. Department of Justice. In this capacity, she managed a $735 million budget and oversaw more than 4,800 attorneys and other employees. As California Attorney General, Kamala fought for families and won a $20 billion settlement for California homeowners against big banks that were unfairly foreclosing on homes.
Kamala Harris
Kamala worked to protect Obamacare, helped win marriage equality for all, defended California's landmark climate change law and won a $1.1 billion settlement against a for-profit education company that scammed students and veterans. Kamala also fought for California communities and prosecuted transnational gangs who drove human trafficking, gun smuggling and drug rings.
Since being elected to the U.S. Senate in 2016, Kamala has introduced and co-sponsored legislation to help the middle class, increase the minimum wage to $15, reform cash bail, and defend the legal rights of refugees and immigrants.
Kamala Harris
Kamala serves on the Senate Select Committee on Intelligence that deals with the nation's most sensitive national security and international threats. She also serves on the Senate Homeland Security and Governmental Affairs Committee where she oversees the federal government's response to natural disasters and emergencies, including the Trump administration's response to COVID-19.
On the Senate Judiciary Committee, Kamala has held Trump administration officials accountable and was a powerful voice against Trump's conservative judicial nominations.
Kamala Harris
Kamala graduated from Howard University, where she was in the Alpha Kappa Alpha sorority, and earned a law degree from the University of California, Hastings College of Law.
Kamala has been married to her husband Doug for the past six years. She is the stepmother of two children, Ella and Cole who are her "endless source of love and pure joy."

Alameda County Democratic Party Endorsements
November 3, 2020
The Democratic Party has endorsed the following candidates and measures for the November 3, 2020 Election. Statewide endorsements are made by the California Democratic Party. Local endorsements are made by the Alameda County Democratic Party.
Candidates:
President/Vice President – Joe Biden/Kamala Harris
U.S. Congress District 15 – Hon. Eric Swalwell
State Assembly District 20 – Hon. Bill Quirk
Alameda County Supervisor District 4 – Hon. Nate Miley
Alameda County Board of Education Trustee Area 5 – Lisa Brunner
Alameda County Superior Court Judge Office 2 – Mark Fickes
Castro Valley USD Director – Hon. Lavender Whitaker, Dolly Adams, Mike Kusiak
A.C. Transit Director – At-Large, Hon. H. E. Christian Peeples
Eden Township Healthcare Dist. Director – Hon. Pamela Russo, Winny Knowles
Hayward Area Rec. & Park Dist. Director – Hon. Louis Andrade, Hon. Rick J. Hatcher, Peter Rosen
Oro Loma Sanitary Dist. Director – Hon. Bob Glaze
Hayward USD Director – Will McGee, Sara Prada
Measure V – Alameda County Utility Users Tax Vote YES
Measure W – Alameda County Sales Tax Vote YES
Ballot Measures:
2020 Proposition Endorsements
CALIFORNIA DEMOCRATIC PARTY CALIFORNIA DEMOCRATIC PARTY
14 YES - Continues stem cell research funding to develop treatments
and cures for chronic and life-threatening diseases.
15 YES - Balanced reform that reclaims $12 billion for our local schools
and communities.
16 YES - End the ban on affirmative action to level the playing field for
women and communities of color.
17 YES - Restores voting rights to Californians who have completed
their prison term. Free the Vote!
18 YES - Allows those who turn age 18 by a November general election
to vote in that year's primary elections.
19 YES - Helps seniors, disabled homeowners, and wildfire victims;
closes tax loopholes on out-of-state trust fund heirs.
20 NO - Wastes tens of millions on prisons causing cuts to
rehabilitation and schools. Stop the Prison Spending Scam!
21 YES - Keeps families in their homes, prevents homelessness, and
preserves affordable housing.
22 NO - Exempts Uber and Lyft from providing drivers the benefits
they deserve. Drivers' rights over Uber/Lyft profits.
23 YES - Improves safety and prohibits discrimination in dialysis clinics
to protect gravely ill patients.
24 Neutral - Would expand or amend the provisions of the California
Consumer Privacy Act of 2018.
25 YES - Replaces discriminatory and unjust money bail with a fairer
system based on public safety – not ability to pay.
Our dear friend and beloved Club member, Evelyn Brownell has passed away.

Evelyn was 102 years and 4 months old when she passed. Her fighting spirit lives on. May her life of service be an inspiration to us all.

Evelyn was a dedicated member who registered hundreds of voters at the county Fair and at the Fall Festival.

See Evelyn's Farewell Page When She Moved to Southern California

Castro Valley Democratic Club Holiday Party December 15, 2019

Weekly Peace Vigil
Peace Corner CV Blvd and Redwood Road

November 2019
WED 20 and 27 - 5:15 PM
December 2019
WED 4, 11, 18 and 25 - 5:15 PM
January 2020
WED 1, 8 and 15 - 5:15 PM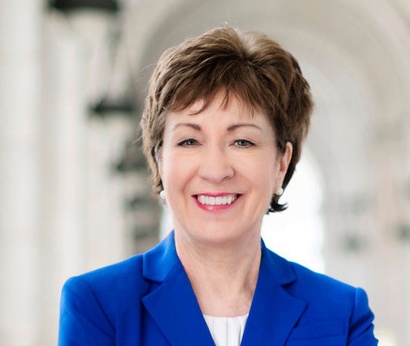 HAS SEN. SUSAN COLLINS SLEEK SLOOP BECOME A SINKABLE SCOW?
By Carole Georges
Many signals are in the public discourse that Senator Susan Collins of Maine, after twenty two years in the Senate, is in jeopardy this year.

The Cook Report in August, 2019, changed their analysis of her seat from "leaning Republican" to "toss up". It was with that in mind that I toured Southern Maine recently. At a local Lobster Joint in Bar Harbor I asked our waiter, a wiry quick moving guy in his 50's, what he thought of her chances in this election. His response was, "Well if she loses by one vote, it will by mine." He went on to say he and his family were not voting for her.

Senator Collins' vote to confirm Bret Kavanaugh to the U.S. Supreme Court was widely unpopular especially with women. Her speech attempting to justify the vote did not satisfy those with questions about his nomination. Collins' vote for Trump's tax bill could result in the removal of the individual mandate from the Affordable Care Act, if the related Republican lawsuit is successful, ending coverage under the ACA for 90,000 Mainers.

Working in Collins favor, she hauled in more than six million dollars for her campaign by July, 2019, according to Scott Thistle, writing in the Portland Maine Press Herald this month, while her leading challenger, Maine State Senate Leader Sara Gideon, had only amassed one million according to the records of the Federal Election Commission. However, Sara Gideon's website claims that her campaign has outraised Collins in the second quarter of this year. Is there something in the wind?

Much of the money on both sides appears to be coming from out of State. Even Sen. Warren's campaign sent a letter to supporters indicating that it would target Sen. Collins seat as one of those it hoped to change.

Aside from the money, the other difficulty with unseating Collins is Maine's ranked voting system. In Alameda County we're all familiar with the unexpected results such a system can generate.

There are several other candidates besides Sara Gideon in the Democratic Primary. If Gideon does not reach a majority vote, the second choice votes come into play, and someone other than Gideon could win the Primary. That someone could be a weaker candidate in the General. However, there is a new poll taken October 15, 2019 by the democratic pollster Public Policy Polling showing a generic Democrat beating Collins 44% to 41%.

Although it is too early for Campaign headquarters and rallies, there are ads running on television in Maine. The pro-Collins ad features her in peachy white make-up, looking benignly at an elderly diabetic patient. In it Collins affirms the importance of being pro Diabetic treatment.

An Anti-Collins ad shows a video of her at a fundraiser hosted by a man known as the "Trump Judge Whisperer" with a voiceover about her vote to confirm Kavanaugh for Supreme Court.

We stayed at the Lake where Stephen King lived when he wrote "Carrie and "the Shining". Author King came out for replacing Collins with someone "a bit more liberal" on a recent Colbert show. At a local pub/restaurant I asked our young waitress what she thought Susan Collins chances were in the coming election. Her response was that that was "hard to say." She herself was still thinking it over, a diplomatic answer. Even so, it struck me that in previous elections that answer might have been an enthusiastic "Yes, she'll win".
##

©carolegeorges2019
The Whistle-Blower Complaint Audio Book


At the Castro Valley Democratic Club to update members about the 2019 legislative
session. Talking officer involved shootings, closing tax loopholes, and the climate crisis.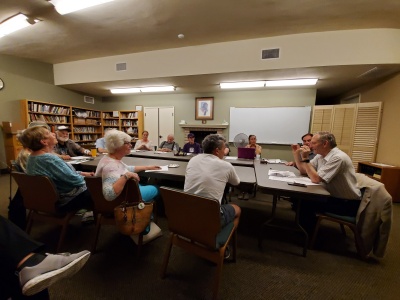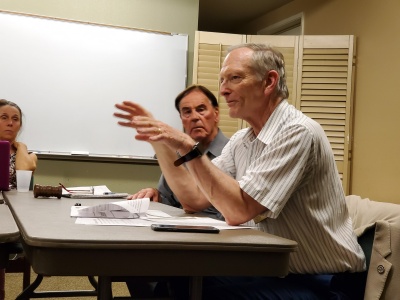 Our Speaker Sept. 24, 2019 at 7pm is Assemblyman Bill Quirk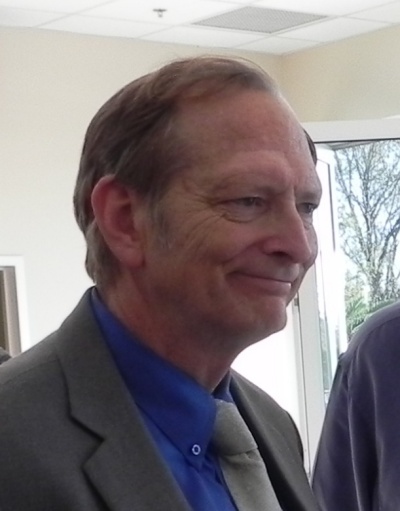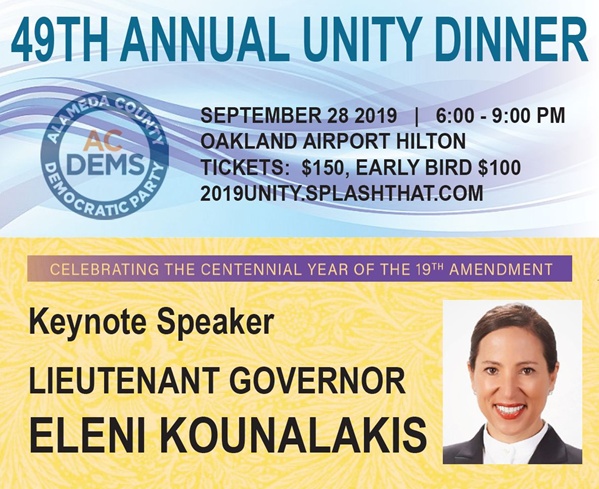 Castro Valley Democratic Club Welcomes Alameda County District Attorney Nancy O'Malley and Marvin Mutch
| | |
| --- | --- |
| District Attorney Nancy O'Malley Addresses CV DEMS | Mr. Marvin Mutch Wrongfully Convicted Spent 41 Years in Prison |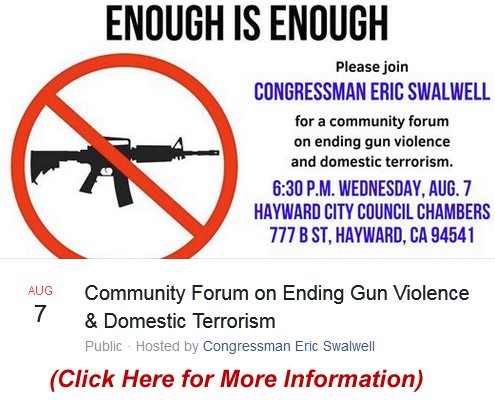 Congressman Eric Swalwell at the Castro Valley High School multi-purpose room
Saturday, July 20th, from 11:00 AM - 12:30 PM for a 15th District Town Hall Meeting.


Video: Castro Valley Democratic Club Annual Picnic July 14, 2019

Slide Show: Castro Valley Democratic Club Annual Picnic July 14, 2019


Dems at Castro Valley Pride July 13, 2019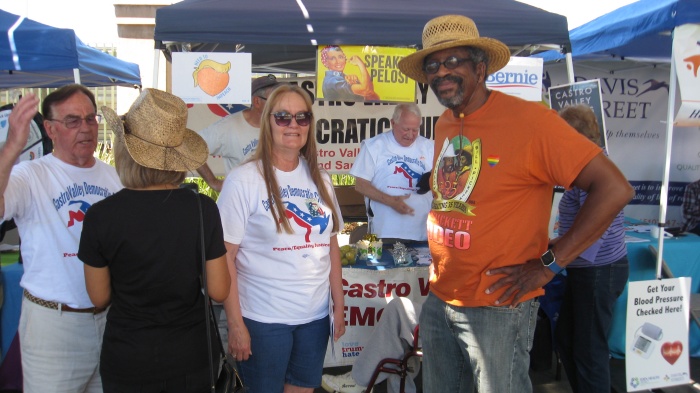 Congressmember Eric Swalwell
Dublin City Councilmember Jean Josey

Alameda County Supervisor Nate Miley
HARD Board President Rick Hatcher
Join the Castro Valley Democratic Club
$20/individuals
$25/households
$10 for Students
$100 for Sustaining Membership
$10 for low-income members at the discretion of the Treasurer.
Go To: Membership Forms
In MS Word format or in pdf format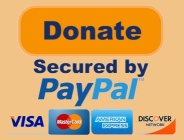 Your support is greatly appreciated