THE A-4 EVER - Skyhawk Association,
Spring 2006, Volume 12 - Number 2

Designed to deliver one bomb over long distances, by 1961 the Douglas Skyhawk had proven itself as a capable ground attack aircraft. While maintaining a nuclear strike capability, Navy and Marine VA and VMA squadrons' primary role had become destruction of land and sea targets with conventional ordnance. That year, the A-4's talents as an air-to-air fighter were first used in the VSF mission.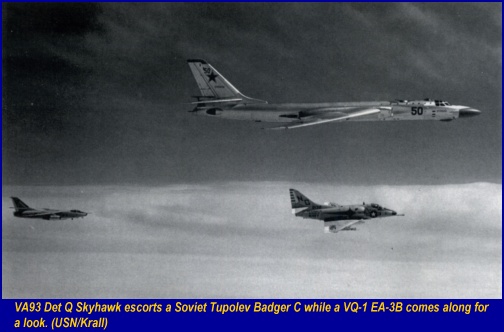 VSF = ASWFitRon = a squadron that would provide fighter aircraft to protect the specialized anti-submarine aircraft carriers (designated CVS from 1955 - 1973) from enemy air attacks. Although used officially for only a brief period, "VSF" is a convenient way of saying "fighters operating from an Anti-Submarine Warfare (ASW) aircraft carrier" and will be used in this article. As some wit said, "Vee Ess Eff must mean Very Small Fighters."
Carrier-based ASW did not begin as a specialty. During WW2 all aircraft were used for Anti-Submarine patrols; even the fighters. By the Korean War, the increased capabilities of submarines demanded specialized aircraft to detect, track and combat them. The Grumman Avenger, which began life as a torpedo bomber, was heavily modified to become the first dedicated carrier-based ASW airplane. The large and short-lived AF Guardian, which operated in a team requiring two aircraft, followed before the multi-crew, multi-engine Grumman S2F Tracker dominated ship-based ASW for the next two decades.
Specialized carrier air wings, CVSG, consisting of two YS (S2F) and an HS (helicopter) squadron plus detachments for early warning and ECM were created. A CVS with surface combatants and friendly submarines formed an ASW Task Group and usually operated far from air protection from shore or attack carriers, CVA. The threat from Soviet long-range maritime aircraft was significant and fighters as part of the CVSG was the answer.
The concept was developed on three deployments. VF(AW)-4 Det 50 operated F9F-5 Cougars from Antietam (CVS-36) in late 1956 before that carrier became the full-time training carrier in Pensacola. VA-44 had later model Cougars (F9F-8s) on Wasp (CVS-18) in late 1957 and Det N of VF-92 flew F2H-3 Banshees from Yorktown (CVS-10) October 1958 to May 1959. The fighter detachments worked well, and more were planned. However, the new, more capable fighter aircraft in the Navy inventory were also larger, heavier and faster. In 1960 all eight CVS had hydraulic catapults and limited deck space; they were simply not able to operate fighters like the Demon, Skyray or Crusader. Enter the A-4 Skyhawk.
The nicknames of the Douglas A-4, "Scooter," "Tinker Toy," and "Heinemann's Hot Rod," reflected its small size, light weight and agility. VA-34 provided the first detachment of Skyhawks (A4D2/A-4B) during Essex (CVS-9) 1961 Atlantic deployment. The "Blue Blaster" Skyhawks carried a centerline fuel tank, two AIM-9 Sidewinders, and their two 20mm cannon for use in the air defense role. This load-out would remain standard. Eleven more detachments with A-4s on CVS followed.
VA-64 had a detachment of A-4Bs in Wasp February to June 1962 before the whole squadron embarked in Independence (CVA 62) for the Cuban quarantine.
VA-22 provided four A-4B Skyhawks, six pilots and forty-eight enlisted men (a typical VSF det size) aboard Kearsarge (CVS 33) June to December 1963. Highpoint of the Pacific deployment was recovery of space capsule Faith 7 and astronaut Gordon Cooper.
The Marine Corps had their first det in 1963. Unfortunately, Essex was in a horrific storm returning from the Med and the steel mast broke off the top of the island. One of the yardarms punched a hole through a H&MS-32 Det Skyhawk and the wooden flight deck. A plane load of jet fuel splashed over the flight deck and drained down into the hangar bay. Fortunately, there was no fire.
On the same deployment a Soviet Tu-
pg. 6 Spring 2006 - Skyhawk Association
---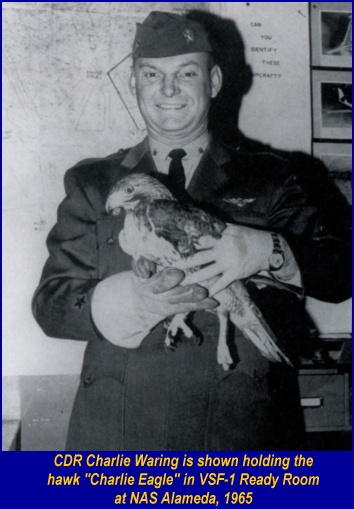 95 Bear made several low altitude runs on Essex, misjudged a turn and crashed spectacularly into the sea within view of everyone on deck.
The "Black Sheep" of VMA-214 went to WestPac in Hornet (CVS-12) as part of CVSG-57 October 1963 to April 1964, with A-4Bs.
The VA-34 "Blue Blasters" had overlapping dets in Randolph (CVS-15) and Intrepid (CVS-11) from late 1963 into 1964.
The Skyhawks turned out to be useful in the ASW role as well. With their speed they could search wide areas, or speed out to a contact much faster than the S-2. Nor did submarines expect a threat from high altitude. The Scooter pilots carried cameras and became proficient at low passes to rig ships.
VA-93 had Det Q in Bennington (CVS-20) February to September, 1964. Bob Krall (who later was assigned to NARF Alameda and flew 637 different Skyhawks 1961-68) said, "The deployment at Yuma shooting at a banner towed by a T2V Seastar didn't produce any results that the det pilots could brag about at a fighter pilot bar. Regardless of boresighting, the A-4 guns were not suited for air to air gunnery."
VA-153 Det R in Kearsarge made a fast turn in December 1964 to join the parent "Bluetail" squadron for deployment to WestPac in Coral Sea (CVA-43).
The "Stingers" of VA-113 formed Det Q for Bennington in 1965. Marc Pierce, who later would join VSF-1, remembers training with the RAG, VF-124, in Miramar; A-4s against F-8s with a TF-9 Cougar that towed the target for air-to-air gunnery. "Even with a fixed gunsight, the Skyhawk pilots did better than the Crusaders with lead computing sights, although experienced pilots versus replacements new in the aircraft may have had something to do with it."
Like all the CVS (except Intrepid) at the time, Bennington had hydraulic catapults restricting the A-4 to only a 150 gallon centerline tank with two AIM-9 missiles. During the deployment to WestPac, VA-113 Det had the unique opportunity to be the first Skyhawk to land aboard the Australian aircraft carrier, HMS Melbourne. (Later, the Australian navy operated A-4 squadrons of its own.) With the situation in Vietnam getting tense, VA-113's Det also did a fast turn to go aboard Kittyhawk (CVA-63) with the rest of the squadron in October 1965, for early strikes into North Vietnam.
The same year VMA-223 "Bulldogs" Det T of A-4Cs finished a deployment in Yorktown and immediately moved to the new Marine base at Chu Lai.
Marine Air Group 15's Headquarters and Maintenance Squadron deployed to the Tonkin Gulf in Hornet as 1965 became 1966. The six pilots flew bomb strikes from Ticonderoga (CVS-14), Midway (CVA-41) and Ranger (CVA-61) as well as their carrier protection mission, and all became Hornet centurions. On a wry note, their A-4Cs were named for ladies of dubious reputation: Fanny Hill, Polly Adler, Ko Sisters and Mamie Stover. (See sidebar.)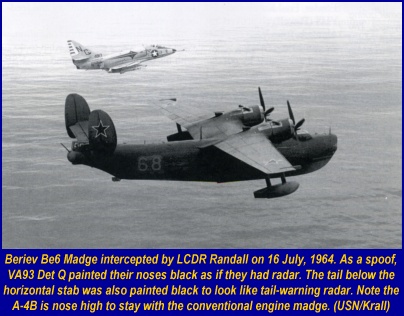 The importance of the VSF mission justified the creation of a specialized, large squadron which would provide a detachment for each CVS. Protection of ASW task groups would be the primary mission instead of the temporary additional role it had been. Anti-Submarine Warfare Fighter Squadron One was established 1 July 1965, at NAS Lemoore. Plank owners were CDR Waring, LTjg John Chernowski, and a dozen enlisted men. The squadron would be based at NAS Alameda and operate A-4Bs.
The first VSF commanding officer was CDR Charles E. Waring who had been a flying midshipmen out of the V12/V5a program. He had flown sixty-five missions in F4U-4 Corsairs in Korea in VF-54 from both Philippine Sea (CVA-47) and Valley Forge (CVA-45) when the ships swapped airwings. He made Midway's round-the-world cruise in VF-174 flying F9F Cougars and was XO of VA-155 with A-4A/Bs in WestPac in Coral Sea. Recently promoted after 2 1/2 years in Izmir, Turkey,
pg. 7 Skyhawk Associaltion - Spring 2006
---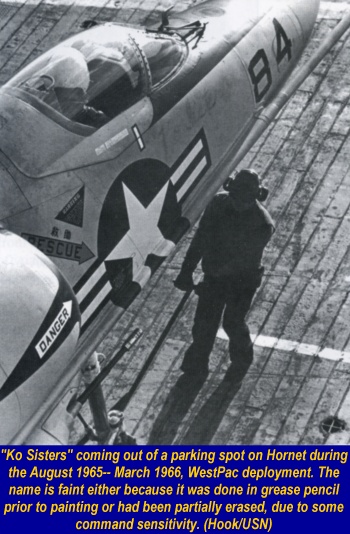 with the Sixth Allied Tactical Air Force, the commander detailer assured him that VSF was a "good deal."
The first pilots went through an abbreviated syllabus in Lemoore (Since Waring was already A-4 qualified, he left VA-125 after only two refresher hops) and included a former P2V Neptune pilot who did not go through the RAG at all. (He was later killed in a ramp strike after finessing orders to a VA squadron.) Later pilots went through the entire attack/nuke delivery syllabus with the bonus of earning per diem while in Lemoore as their final orders were to NAS Alameda.
The eagle head in the squadron insignia was adapted from the Waring family silverware with green slashes added to match the painted portion of the A-4's rudder. Waring argued that as a fighter squadron, VSF-1 should have red as the squadron color. Although the powers-that-be decreed otherwise, the skipper's airplane always seemed to have red where the rest of the squadron was painted green.
Aircraft side numbers were two digits beginning with the CO's 70 and eventually reaching into the 90s while the letter code was NA. Squadron jokesters claimed it stood for "Not Applicable."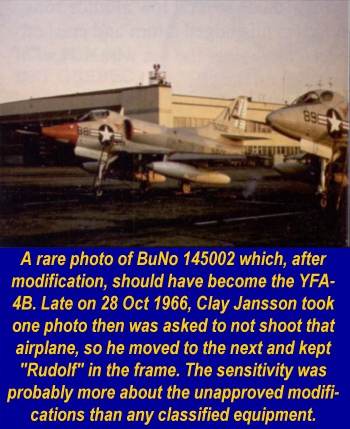 Waring was a skipper from the old school. Howie Fowler, Fred Kasch and YHS (Powell) all arrived in Alameda from VA-125 at the same time. Waring welcomed us nuggets by putting us on the next day's flight schedule. No chase, no old hand, just the three of us. We took turns leading. Howie's family was from near Mt Shasta so we flew up to say hello. Fred and I were tucked in tight when over the radio came, "On count of three we pull up." I looked forward to see green trees and steep cliffs filling the Scooter's windscreen.
A SAR helicopter crew had rescued an injured Red-tailed Hawk (Buteo jamaicaensis) and taken the bird back to NAAS Fallon. Navy corpsmen removed the birdshot, but its wing was damaged and sustained flight impossible. Since the hawk could not be released to the wild, the folks at Fallon kept it. As with all large birds, there were sanitary and feeding problems.
The Commanding Officer of Fallon, Capt Oliver, was wondering what to do with his charge when the brand new VSF-
Sidebar: Woman of Pleasure Becomes the Mount of VA-94 CA.
The history of 147681 is well documented. One of 181 A4D-2N Skyhawks in the second production batch of 1960 she was initially assigned to the VA-I92 "World Famous Golden Dragons."
In May, 1965, BuNo 147681 was assigned to Headquarters and Maintenance Squadron 15 (H&MS-15) at EI Toro. California. Assigned to Det N. she deployed in Hornet in August '65 and was named "Fanny Hill". In February 1966, she went to Atsugi, Japan, and on to NAS Cubi Point, Philippines, for major maintenance.
LTjg Baldock of VA-94 was flying his skipper's airplane. NG401, when the tail of A-4C BuNo 147740 was blown off by a SAM south of Vinh (He became a POW and returned in 1973). The CO of the VA-94 "Mighty Shrikes" was Commander Otto Krueger (Skyhawk Association plank-owner and past-president), and BuNo 147681 came aboard Enterprise as the replacement NG401. The former 'Fanny Hill' finished the combat cruise and returned with the squadron to NAS Lemoore.
After VA-94, BuNo 147681 served with the VA-34 Blue Blasters, VA-66 Waldomen, VA-44 Hornets. VA-12 Flying Ubangis and ended her career with the VA-305 Hackers at Los Alamitos, California. The A-4C Skyhawk was finally sent to MASDAC Davis-Monthan in May, 1971, for recycling. Hopefully, some of her aluminum became a cocktail shaker. So when you drink a Martini, think of Fanny Hill.

pg. 8 Spring 2006 - Skyhawk Associaltion
---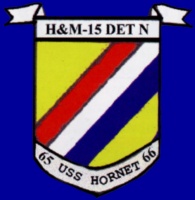 I arrived for weapons training. Emblazoned proudly on flight jackets and A-4B airplanes was the squadron patch inspired by the first CO's family crest-an eagle head en profile on fesse vert.
A hawk looks like an eagle, especially a stylized one. And the squadron flew Skyhawks. Perfect. A small ceremony was arranged, with photographers, and the hawk was officially presented as the mascot for VSF-1. How could the CO, Charlie Waring, refuse?
The sex of the bird was never determined, but it was soon named "Charlie Eagle." The airframes shop built a large cage and placed it at the back of the ready room on the second deck. Charlie's diet was typically raw liver with an occasional lizard that Maintenance Officer Phil Dougherty's nine kids caught. Charlie's gory mouse meals became a part of initiating new men into the squadron.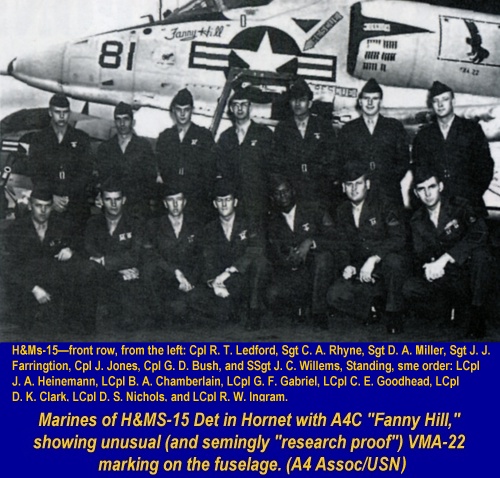 The door to his cage was usually left open and Charlie would hop onto chair backs and up to the top of the cage. From there he would occasionally launch for the front of the room, hit the waxed linoleum deck and skid into the wall. These "flights" went into the squadron log as "arrested landings" for Charlie. At even odder times, Charlie would target the SDO at his desk. Looking up into the outstretched talons of a hawk was a thrill most of the junior officers were subjected to. Mercifully there were no injuries-to bird or JO.
Eager to develop the fighter mission, Charlie Waring arranged weapons detachments to NAAS Fallon and MCAS Yuma, set up ACM practice, fired AIM-9 Sidewinders and had "Rudolf' built. Rudolf was an A-4B (BuNo 145002) that had an F-8 air-to-air radar "borrowed" from the China Lake Weapons Center and installed by NARF Alameda. The unique, longer nose (modified from a F-11 Tiger's) was painted red and the name followed soon after.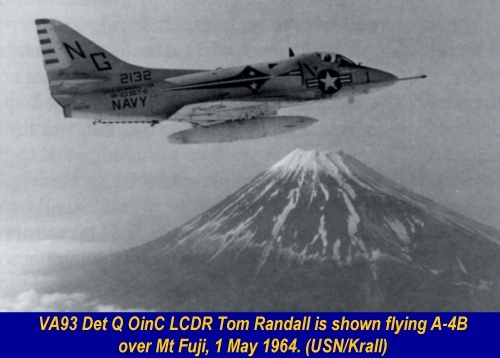 What was intended as the prototype for future VSF fighters had not been approved by higher authority. Nor was taking Rudolf on the CarQual sessions the pilots of VSF-1 had on Kearsarge and Hornet. Waring himself flew Rudolf's first trap. Six pilots and the maintenance crew of the first detachment were ready to go aboard Yorktown when the deployment was cancelled in the spring of 1966.
Next time: How it all changed--and changed again. The two VSF squadrons (four, counting Navy reserve squadrons) deployed only one detachment in its intended role, but went to sea as normal AtkRons. Later, the "Blackbirds" of VA-45, a Fleet Replacement Squadron, came closest to the original VSF concept on the last CVS cruises. Stay tuned for Part 2 in the following issue of the A-4Ever!


Sidebar: The Saga of A-4C BuNo 147681
Not only did the Marines of H&MS-15 Det N on Hornet (CVS-12) paint names in florid script on the noses of their four A-4C Skyhawks, but used the names of women of dubious morality. 1965 obviously was a time before "political correctness" was invented, publicity releases from the det appeared in NavNews and other publications. What do you think the reaction of the intercepted Soviet air crews was when they read the names?
BuNo 147681, YV 81 Fanny Hill
BuNo 147809, YV 82 Polly Adler
BuNo 147829, YV 83 Mamie Stover
BuNo 148464, YV 84 Ko Sisters
For those who have led sheltered lives and/or are of a newer generation, here's the story on the ladies:
Fanny Hill - the 1749 book is subtitled Memoirs of a Woman of Pleasure. Considered the first erotic novel, it has become a byword for censorship controversy.
Polly Adler - New York City madame in the 1930s. Famous for entry scenes at Manhattan night clubs with her girls.
Mamie Stover - a woman of dubious morals forced to leave San Francisco for Hawaii in a 1956 novel. Suggestive mostly because of the movie version with Jane Russell.
Ko Sisters - Japanese women's names tend to end in "ko" and since most Marines did not have much command of Japanese, it was a standard way to refer to Michiko, Fumiko, Sajiko, Akiko and the other girls who worked in the O'Club at Iwakuni and the bars in town.
pg. 9 Skyhawk Associaltion - Spring 2006
Part II >>>